Lester Beats the Heat to Win IronMan France Again!
July 9, 2019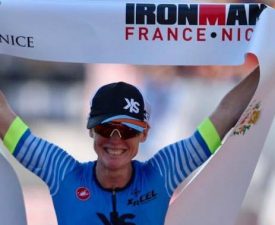 XRCEL fuels Carrie Lester through blistering heat to take top spot.
Charleston, SC (July 9, 2019) – – XRCEL Athlete Fuel congratulates its ambassador and KIS Performance Team coach Carrie Lester for her awesome win at IronMan France. Carrie battled grueling record high temperatures and tough competition to win, again.
"Carrie is amazing! We have fueled her for years and she just keeps delivering absolutely great results", said Fred Sexton President and Founder of New World Consumer Products. "The way she trains, works with her coach, improves her equipment and dials in her nutrition strategy to finds ways to improve her performance is impressive. With this result for her first race of the 2019 season I think the triathlon community is going to see her put up great performances all season long."
"I am extremely happy to have been able to regain my Ironman France title and would not have been able to do it without the help of XRCEL," said Lester.  "This year's Ironman in Nice, France was the hottest race I have ever done as we experienced an unusual unrelenting heatwave across many parts of Europe. I knew that my only chance of a win was to race to my own limits and do the best I could in nailing my race nutrition.
Endurance racing in hot conditions like we had can often result in a complete gastric shutdown as the body shifts blood flow away from the stomach to try and stay cool and this is where XRCEL is just superior to many other forms of sports nutrition products.
After 8hrs of racing in the heat it was still easy to digest and helped me get to the finish line in the best possible way. I had zero GI distress and the microgel technology worked wonders in keeping my body temperature down as best it could in extreme heat.
XRCEL combined with adequate sodium intake was my key to success for this race. Thank you XRCEL"
"Ironman France 2019 turned out to be the most difficult in the races 15-year history. Said KIS Coaching's Scott DeFilippis, Carrie's coach. "Carrie's and my preparation has been nearly perfect since March, with 2 great prep races. In such extreme conditions, as we faced, you are riding a fine line between competing and surviving. Carrie was able to find that balance. I'm very happy to see Carrie retain this title that means so much to her."
"Carrie Lester is an incredibly talented athlete with extraordinary mental focus and physical strength and fitness," said Laura DeMeo Business Development Manager – Endurance Sports for Team XRCEL. "We are very excited for Carrie's big win and her reclaiming the title as the 2019 Ironman FranceChampion! Despite this historic, athlete punishing extreme heat wave in France–in true Carrie Lester fashion, Carrie raced with laser sharp focus and stayed strong start to finish.  Carrie and her partner and coach, Scott DeFilippis (KIS Coaching) spend their summers in Europe training in the unrelenting mountains in the Swiss Alps. We are very proud to fuel Carrie and Scott over the past 5 plus years and be a part of Carrie's winning record, including 2017, 2019 Ironman France Champion, and 2018 2nd place!"
###
About XRCEL® Athlete Fuel
XRCEL Athlete Fuel is a revolutionary extended release carbohydrate supplement formulated with patented pH and temperature responsive micro-gel technology developed by New World Pharmaceuticals, LLC.  XRCEL is a caffeine and banned substance free supplement designed to provide athletes with extended release muscle and brain fuel so that they may get the most out of their training and competitions. 
New World Pharmaceuticals is based in Charleston, South Carolina. For more information, please visit http://www.NewWorldPharma.com.