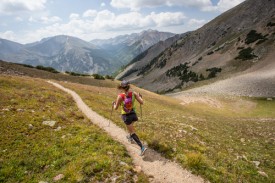 34th Annual event brings athletes from around the world to conquer Colorado Rockies terrain; Watch live streaming at start and during portions of the race
Leadville, Colo. (Aug. 19, 2016) — On August 20-21st nearly 750 competitors will race all day and into the night at the Blueprint for Athletes Leadville Trail 100 Run presented by New Balance, produced by Life TimeSM – The Healthy Way of Life Company and presented by New Balance. Competitors from around the world come to Leadville to prove themselves on the iconic 100-mile course covering grueling Colorado Rockies terrain where elevations range from 9,200 to 12,600 feet, with a total climb of more than 18,000 feet.
"As we begin our 34th year, I continue to be in awe of all of the competitors here ready to defy the impossible and earn their place in Leadville Trail 100 history," said Josh Colley, race director, Leadville Race Series. "The strength and grit each athlete portrays inspires all of us to lead an active, healthy life and push to make our dreams a reality."
Top contenders for the pro race include 2015 and 2013 past champion Ian Sharman (United Kingdom) and 2014 second place finisher Mike Aish (United States) who is currently chasing the Leadman course record. For the women, ultra-running powerhouses, Britt Dick (United States) and Jen Benna are toeing the line.
This year at the Leadville Trail 100, competitors from all 50 states and 36 countries are represented. Competitor Eric Pence is looking for his 22nd finish in the event, while an incredible 75 percent of participants, are competing in the Leadville Trail 100 Race for the first time. Javier Cendejas will be the oldest competitor at 73 and David Hedges is the youngest competitor at 18. Over the course of the race, competitors climb more than 18,000 feet—which is like running up the Empire State Building 14.5 times (1,250 feet to the top). The first finishers are expected to complete the race in 16 to 17 hours and all participants have 30 hours to finish and earn the coveted Leadville 100 belt buckle. Most competitors will see the sun rise twice while they are running.
The entire pool of competitors will start the Leadville 100 Run at 4:00 a.m. on Saturday, August 20 and additional race timelines are as follows:
8 to 9 p.m., Saturday, August 20: Male top finishers expected finish time range
11:30 to 12:30 a.m., Sunday, August 21: Female top finishers expected finish time range
5 a.m., Sunday, August 21: 25-hour cutoff time–these runners are awarded the large silver and gold buckles
10 a.m. Sunday, August 21: 30-hour cutoff time for all runners–these runners awarded silver finisher buckles
Noon: Awards ceremony at Lake County Middle School gynamsium, 1000 West 6th Street
For more information and complete results visit www.LeadvilleRaceSeries.com. For photos and more visit the Leadville Race Series Facebook page. To learn more about Life Time Athletic Events visit EventsByLifeTime.com. 
About Leadville Race Series
Started with only 45 runners as the Leadville Trail 100® in 1983, the Leadville Race Series now consists of six running events, the Leadville Trail 100 mountain bike race, and six mountain biking events in the Leadville Qualifying Series. The Race Series stretches across three months, and hosts thousands of racers on foot and on mountain bike in some of the world's most iconic events. Endurance athletes worldwide now make the pilgrimage to Leadville, Colo., with the single goal of competing in "The Race Across the Sky." Visit www.leadvilleraceseries.com for more information.
About Quest Diagnostics
Quest Diagnostics empowers people to take action to improve health outcomes. Derived from the world's largest database of clinical lab results, our diagnostic insights reveal new avenues to identify and treat disease, inspire healthy behaviors and improve health care management. Quest annually serves one in three adult Americans and half the physicians and hospitals in the United States, and our 45,000 employees understand that, in the right hands and with the right context, our diagnostic insights can inspire actions that transform lives. www.QuestDiagnostics.com.
About New Balance
New Balance, headquartered in Boston, MA has the following mission: Demonstrating responsible leadership, we build global brands that athletes are proud to wear, associates are proud to create and communities are proud to host. New Balance is currently the only major shoe company that manufactures athletic footwear in the U.S.; in 2013, 1 out of every 4 pairs of shoes we sold in the U.S. was made or assembled here. New Balance owns five factories in New England and one in Flimby, U.K. New Balance employs more than 4,000 associates around the globe, and in 2013 reported worldwide sales of $2.73 billion. To learn more about how New Balance Makes Excellent Happen, please visit http://www.newbalance.com.
About Life TimeSM, The Healthy Way of Life Company
Life Time is a privately held, comprehensive health and lifestyle company that offers a personalized and scientific approach to long-term health and wellness. Through its portfolio of distinctive resort-like destinations, athletic events and corporate health services, the Healthy Way of Life Company helps members achieve their goals everyday with the support of a team of dedicated professionals and an array of proprietary health assessments. As of August 2016, the company operates 121 centers in 26 states and 35 major markets under the LIFE TIME FITNESS® and LIFE TIME ATHLETIC® brands in the United States and Canada. Additional information is available at www.lifetimefitness.com.
# # #