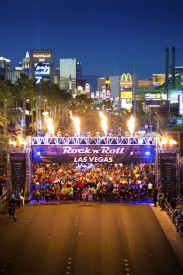 Expanded marathon weekend returns November 12-15 with a three-day expo and new 10K distance; Grammy Award‐nominated artist to perform at pre-race concert on Sunday's main stage; Registration open for the only private event that exclusively shuts down the Las Vegas Strip at night
One of the biggest weekends in running just got bigger. American rock star Kid Rock will headline the 2015 Rock 'n' Roll Las Vegas Marathon & ½ Marathon on Sunday, November 16. The five-time Grammy nominated artist will perform at the pre-race Toyota Rock 'n' Roll Concert Series powered by iHeartRadio at 3:00pm. The marathon and half-marathon begin at 4:30pm, running on both sides of the Las Vegas Strip at night.
Known for his hit songs, including 'Cowboy,' 'Bawitdaba,' 'All Summer Long,' 'Picture' and 'Born Free,' Kid Rock recently released his tenth studio album "First Kiss" earlier this year. His popular mix of Southern rock, hip‐hop, blues‐and-country‐tinged ballads has sold more than 25 million records during his career.
"Rock 'n' Roll Las Vegas has become one of the most anticipated running events of the year and nothing says Rock 'n' Roll like a Kid Rock concert in Las Vegas," said Josh Furlow, President of the Rock 'n' Roll Marathon Series. "With the energy of running down the Las Vegas Strip at night and to have a true rock star like Kid Rock take over the main stage, this is guaranteed to be an unforgettable event runners won't want to miss."
Rock 'n' Roll Las Vegas returns to Sin City the weekend of November 12-15 as the only private event that exclusively shuts down the Las Vegas Strip at night. Featuring an expanded race weekend illuminated by the Strip's neon marquees, the race highlights the must-see Vegas sights from the iconic 'Welcome to Las Vegas' sign to the Fountains of Bellagio. Both of the marathon and half-marathon routes finish at the base of the Mirage Volcano on the most famous street in the world.
The nighttime race attracts runners of all abilities to experience the one-of-a-kind event with live bands performing along the course, a Run-Thru Wedding for couples to elope on-the-go and the infamous group of Running Elvi. Pre- and post–event parties at Vegas' top nightlife venues keep the festivities going throughout the weekend.
Las Vegas weekend activities begin with a free three-day Health & Fitness Expo where all participants go to pick up their race number, gear bag and t-shirt. This ultimate running showcase will kick off Thursday, November 12 at the Las Vegas Convention Center featuring more than 100 fitness retailers, exhibits, free samples and interactive clinics.
Returning for its second year in 2015 is the Rock 'n' Roll 5K presented by SLS Las Vegas, which will take place at 6:00 pm Saturday, November 14. The 5K allows runners to earn the Las Vegas 'Remix Challenge' medal by completing two nights of running.
In true Las Vegas fashion runners have the option of purchasing a VIP package to add to the ultimate Las Vegas experience. VIP packages provide options for runners to gain exclusive marathon access throughout the weekend, including perks such as private packet pick up at the Expo, Start and Finish Line VIP hospitality, upgraded refreshments and more. Limited VIP packages are available at StripAtNight.com. For more information or to register for the event, visit StripAtNight.com and follow @RunRocknRoll on Twitter.
About Rock 'n' Roll Las Vegas
The Rock 'n' Roll Las Vegas Marathon & ½ Marathon will take over the world famous Las Vegas Strip on Sunday night, November 15, 2015. Race participants enjoy the sights and sounds of lavish hotels, world-class entertainment and some of Vegas' hottest music sensations performing on the course.  In addition to live entertainment along the course, the Las Vegas event is renowned for hundreds of runners dressed as Elvis, known as the Running Elvi. Every year the event also includes a Run-Thru Wedding Chapel where runners in love can tie the knot or renew their vows on the race route. The finish line venue in front of the Mirage Volcano is conveniently located less than one mile from more than 15 resorts, offering runners a nearby walk back to their respective hotel after the race. Since 2009, more than $20 million has been raised by runners for charity at the Las Vegas event, which annually generates $165 million in economic impact to the region. For more information about Rock 'n' Roll Las Vegas, visit StripatNight.com and follow @RunRocknRoll on Twitter.
About The LVCVA
The Las Vegas Convention and Visitors Authority (LVCVA) is charged with marketing Southern Nevada as a tourism and convention destination worldwide, and also with operating the Las Vegas Convention Center and Cashman Center. With nearly 150,000 hotel rooms in Las Vegas alone and 10.8 million square feet of meeting and exhibit space citywide, the LVCVA's mission centers on attracting ever increasing numbers of leisure and business visitors to the area. For more information, go to lvcva.com or LasVegas.com.