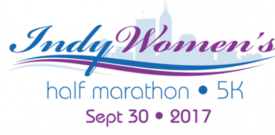 Runners from 33 states participate
INDIANAPOLIS – The 7th Annual Indianapolis Women's Half Marathon & 5K was held on Saturday, September 30, 2017, in downtown Indianapolis. As Indiana's largest women's-only event, this year's race saw the top five half marathon finishers coming from five states other than Indiana. A total of 33 states were represented in this year's event.
Top Half Marathon Finishers:
Amber White, Naperville, IL – 1:18:19. White competed in the 2016 Olympic Trials. This is her second competitive race since having her first child earlier this year.
Mollie Turner, Averill Park, N – 1:18:59. White is a 3-time All-American at James Madison University; Shamrock Half Marathon March 2017 1:21:12 PR 2nd; Houston Half Marathon January 2017 1:22:54 PR
Joy Miller, Beaufort, SC – 1:19:09. Won the Augusta Half Marathon in February 2017 and is a 3-time winner of the Savannah Women's Half Marathon.
Pasca Myers, Fort Dodge, IA – 1:20:40. Nebraska State Fair Half Marathon (1st); 2014 Grandma's Marathon (1st)
Sara Ibbetson, Osark, MO – 1:20:50
The number of finishers in this year's event vaulted the Indy Women's Half Marathon to the 7th largest women's half marathon in the United States. The event is produced by Carmel Road Racing Group.
###
About Indy Women's Half Marathon & 5K – The Indy Women's Half Marathon was introduced to the central Indiana running community in August 2010 as the first women's only half marathon in Indiana. In just seven years, it has become the largest women's running event in the state and the 7th largest women's half marathons in the U.S.  A women's only race offers a unique atmosphere, emotion and camaraderie from women of all ages and abilities. Some race competitively, some for charities, some for loved ones or for reasons we may never know about and some will run with friends decked out in colorful fashions. According to a 2014 Running USA industry report, there are 8.6 million female runners in the U.S. Within that group, half marathons are the fastest growing race distance. For more information or to register for either the Half Marathon or 5K, go to www.indywomenshalfmarathon.com.
About Carmel Road Racing Group – Carmel Road Racing Group (CRRG) is a running event company based in Carmel, Indiana. Our signature events include the Carmel Marathon Weekend in April, Indy Polar Bear in February, 8-Hour Endurance Race in July, Indy Women's Half Marathon & 5Kin September and Donut 5K in December. The Carmel Half Marathon (held in conjunction with the Carmel Marathon) and the Indy Women's Half Marathon are the two fastest growing half marathons in the state. CRRG also manages conference 5K events for non-profit membership and trade associations. Throughout the last eight years, CRRG has planned and executed 5K run/walks in 12 states. For more information go to www.carmelroadracinggroup.com.