Inaugural Hand and Stone Women's Philadelphia Triathlon wins Best First Timer Award
January 31, 2019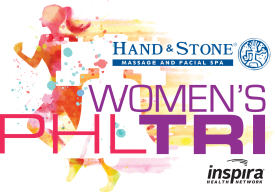 For the 3rd year in a row, DelMoSports of southern New Jersey is taking home an Athlete's Choice Award from the annual Triathlon Business International Conference in Tempe, AZ. In its inaugural year, the Hand & Stone Women's Philadelphia Triathlon presented by Inspira Health won BEST FIRST TIMER TRIATHLON AWARD. This women only pool triathlon was sold out in it's first year and welcomed participants from around the country to swim, bike, and run, in the city of 'Sisterly' Love.
"This award is a testament to the amazing endurance sports culture that exists in our region as well as the hard work of our team. We cannot say enough about the energy these courageous women brought to Philadelphia that Sunday morning. It was truly a sight to behold," stated Stephen Del Monte, Founder of DelMoSports. "The city of Philadelphia could not have been more accommodating and our athletes, volunteers, and crew all brought their A GAME!"
What makes this event truly unique is that the Women's Philadelphia Triathlon is the first event to utilize the historic Kelly Pool in Fairmont Park for the swim portion of the event, rather than hosting the swim in the Schuylkill River as other triathlons have done in the past. "We recognized the main barrier to entry for most participants is open water swimming. We knew the pool was the only way to make this event an instant success," said Del Monte. "The response to this event has been incredible. It's only January and we are close to selling out for 2019; that is a true testament to the vibrant endurance sports culture we have in our region."
This marks the 5th Athlete's Choice award for DelMoSports is as many years. Other awards have included Best Large Event for Ironman 70.3 Atlantic City, and two time champion Best Small Race and Best Beginner Race for Tri the Wildwoods Triathlon.
DelMoSports, LLC is a boutique race company founded in 2004, specializing in elite destination events in the Southern New Jersey and Philadelphia.  Their unique and award-winning events include IRONMAN 70.3 Atlantic City, the Women's Philadelphia Triathlon, the MudHen Brewery Race Series, Red Bull Surf & Rescue, the Atlantic City Triathlon, Tri the Wildwoods Triathlon, and Escape the Cape Triathlon and Open Water Swim Classic, which was voted the Best Triathlon in the Mid-Atlantic and Northeast Regions by Competitor. Known for high quality, athlete-centered productions with an emphasis on community involvement, DelMoSports events provide challenging courses, spectacular scenery and amazing vacation opportunities for athletes and their families. www.delmosports.com