GFNY Cozumel – the First Gran Fondo in Paradise
November 24, 2014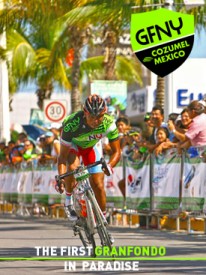 Stage two of the 2014/15 GFNY World series was held on the tropical island of Cozumel, Mexico at the inaugural GFNY Cozumel. A sold-out field of 1,000 riders competed over two distances in perfect weather conditions. While the course is completely flat, trade winds and the hot caribbean sun added two unique challenging elements for all event participants.
At GFNY Cozumel, "The First Gran Fondo in Paradise", riders had the choice between the 100mi / 160km "long route" (two loops of the island) and the 50mi / 80km "medium route" (one loop). Both routes started and finished in the heart of the town of San Miguel de Cozumel and circumnavigated the island through tropical rain forest and along the 20-mile-long spectacular ocean front on the island's uninhabited east coast.
The win was a Mexican sweep: Yayir de Jesus Jimenez Godinez and Michelle Flipo won the long course in a time of 4:07:26 and 4:15:14, respectively. While only the top 10% finishers of all age groups qualified for a racer corral seeding at the GFNY Championship in NYC on May 17, 2015, everyone enjoyed the spectacular course in beautiful sunny weather with temperatures reaching 30C/86F. Riders traveled to the island of Cozumel from Mexico, the US, Canada, the UK, Italy, Colombia, Brazil and many more countries. Participants came from 28 countries to take part in the event, from as far away as Australia.
"GFNY Cozumel was amazingly well organized by the local team from Paradise Sports Management and received full support by the local, regional and even national government officials. That's something we have never seen anywhere in the world," says Uli Fluhme, CEO of Gran Fondo New York. "The roads on the island were shut down for the riders, 500 volunteers were on hand and everyone came out to cheer and support the athletes. They truly were treated like pros for this day."
Campagnolo Gran Fondo New York's goal is to bring GFNY WORLD events into countries that are particularly strongly represented at Campagnolo Gran Fondo New York or are hotbeds for cycling. Whether it's a new or an already existing event, each is required to adhere to the standards of a true Gran Fondo: they must have road closures or police-moderated intersections to allow riders the right of way, individual chip timing and rankings based on finish time. All GFNY events also offer a consistent high-quality experience, ensuring cyclists have a safe, challenging and enjoyable experience from start to finish.
Next stop on the GFNY World tour will be GFNY Puerto Rico on February 15, 2015. The island of Puerto Rico is an international travel destination and ideal winter getaway. The combination of flat roads and hills in Puerto Rico provide a great setting for a tropical training camp. February 16 is a national holiday in the US so participants can enjoy Puerto Rico for an extra day or week after the event.
2014/15 GFNY WORLD CALENDAR
September 21, 2014 – GFNY Italia – gfnyitalia.com
November 23, 2014 – GFNY Cozumel-Mexico – gfnycozumel.com
February 15, 2015 – GFNY Puerto Rico – gfnypuertorico.com
March 21, 2015 – GFNY Barcelona – gfnybarcelona.com
March 29, 2015 – GFNY Colombia – gfnycolombia.com
May 17, 2015 – GFNY Championship at Campagnolo Gran Fondo New York – granfondony.com
June 28, 2015 – GFNY Mont Ventoux – gfnymontventoux.com
###
About Gran Fondo New York
The 5th annual Campagnolo Gran Fondo New York on May 17, 2015 will be the first GFNY Championship. The race features the world's most international peloton with riders from over 70 countries and 48 US states. Athletes will take on a challenging 100-mile route from NYC to Bear Mountain and back to compete against each other, the clock and themselves in a personal endurance challenge. The 50-mile GFNY BEAR on the same day is a non-competitive ride from NYC to Bear Mountain. New for the 2014-2015 season, GFNY WORLD features events in Italy, Mexico, Puerto Rico, Colombia, Spain and France. Campagnolo Gran Fondo New York raises funds for Operation Smile, the international children's medical charity. The official Grand Fondo New York website is: www.granfondony.com.
Photos (credit: sportograf.com): https://www.dropbox.com/sh/y2m0ykrp5cjafml/AAA5fRmu8mR95ym114DZQRlya?dl=0