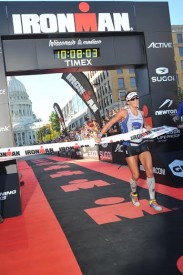 Nearly 3,000 Athletes Converged in Madison for Historic IRONMAN Wisconsin Triathlon
MADISON, Wis. (September 13, 2015) – Madison provided a beautiful backdrop for athletes from around the world today at the 2015 IRONMAN® Wisconsin triathlon. Professional athlete Thomas Gerlach was the first overall finisher of the race while Rudy Kahsar (M25-29) from Boulder, Colorado was the men's age-group winner of the event with a time of 9:08:39. On the women's side, Michelle Andres (F35-39) from East Gull Lake, Minnesota was the female age-group winner with a time of 10:08:05.
More than 3,000 athletes representing 18 countries and 43 states started the 2015 IRONMAN® Wisconsin triathlon, which consisted of a 2.4-mile swim, 112-mile bike and 26.2-mile run in the scenic surroundings provided by the city of Madison. Competitors ranged in age from 18 to 75.
One of more than 40 events in the global IRONMAN Series, the 2015 IRONMAN Wisconsin triathlon led athletes along a 2.4-mile swim, 112-mile bike and 26.2-mile run throughout Madison and its surrounding areas. The swim took place in Lake Monona, while the two-loop bike course wound through rural Dane County, offering challenging hills and a few tough climbs. The two-loop run course took athletes through scenic downtown Madison and the University of Wisconsin campus. The course offered unparalleled spectator support and a spectacular finish in front of the capitol building. The event offered 50 coveted age-group qualifying slots to the 2016 IRONMAN World Championship, taking place on October 8 in Kailua-Kona, Hawai`i.
Full results for the 2015 IRONMAN Wisconsin triathlon can be found at www.ironman.com/triathlon/events/americas/ironman/wisconsin/results.aspx.
Visit www.ironman.com/wisconsin for event information. Media inquiries should be directed to press@ironman.com.
###
About IRONMAN
The iconic IRONMAN® Series of events is the largest participation sports platform in the world. Since the inception of the IRONMAN® brand in 1978, athletes have proven that ANYTHING IS POSSIBLE® by crossing finish lines at the world's most challenging endurance races. Recognized for excellence through distinguished events, world-class athletes and quality products, IRONMAN has grown from a single race to a global sensation with more than 190 events across five unique brands: IRONMAN®, IRONMAN 70.3®, 5150™ Triathlon Series, Iron Girl® and IRONKIDS®. For more information, visit www.ironman.com.
IRONMAN®
2701 North Rocky Point Dr | Suite 1250
Tampa, FL 33607
(P) 813.868.5940 | (F) 813.868.5930