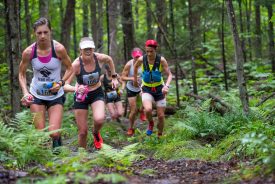 Colorado Springs, CO – The American Trail Running Association (ATRA) announces Joe Viger Photography, as the newest partner in their Event Standards Program.
ATRA introduced its Event Standards Program in 2012, and for the past two years, has included vendors and suppliers as partners to further assist trail race directors in meeting ATRA's 15 criteria necessary for staging a safe and well-organized event.
"Photographs provide an historical record for events," said Nancy Hobbs, ATRA executive director. "Images enhance promotion and social media mentions as they reflect the true grit of the athletes, course and terrain. Joe Viger does his homework and is a master at his craft. He reviews course maps and profiles to find the ideal spot to capture go-to images for events and we are delighted to feature many of his trail running shots on our website."
Added Adam W. Chase, ATRA president, "ATRA is fortunate to partner with such a talented photographer, one who really knows the sport of trail running. Joe Viger Photography will help ATRA promote trail running by showing participants celebrating their passion in stunning settings."
ATRA advisory board member, Chris J. Dunn, Owner & Founder, acidotic RACING, LLC remarked, "Joe Viger has been photographing our events for a number of years.  His professional images capture the essence of these events in ways that no amount of words ever could.  We are convinced that our partnership has been instrumental in elevating a few of our races to national-caliber recognition.  Nearly every mountain runner here in New England has one of Joe's Upper Walking Boss photos in their library."
Viger said, "Trail running was the starting point for my business when I photographed my first US Mountain Running Championships in 2011, and I fell in the love with the sport.  Ever since, I've worked with the great folks that are now on staff at the American Trail Running Association and as my business has grown, it's only right to join this great association. I look forward to contributing and helping ATRA and its members while finding new opportunities to grow my work, tell trail running stories and help promote athletes and races."
ATRA is a non-profit 501 (c) 3 corporation based in Colorado. Founded in 1996, ATRA's mission is to promote trail running, mountain running, ultrarunning on trails, and to provide resources for race directors and participants in our sport.
Joe Viger is a freelance photographer with a special focus on sports photography and endurance events.  He has been a longtime supporter and contributor of photography to the American Trail Running Association and US Mountain Running.  His work appears regularly in a variety of publications including Trail Runner, Runner's World, Velo, Men's Health, UltraRunning and numerous newspapers. Viger photographs a calendar of running events throughout the year and he is the official photographer for the famed the Mt Washington Road Race.  He assists race directors with photography-based marketing tools, free branded image campaigns and participant photo purchase race galleries.
Joe Viger Photography  joins Nicholas Hill Group, Ashworth Awards, Marathon Printing, Inc., Race Roster, Leslie Jordan, and Trail Run Project as partners in ATRA's Event Standards Program.
ATRA will again partner with Active at Altitude for the seventh annual US Trail Running Conference to be held in October, 2019, with the venue to be announced later this month.
##