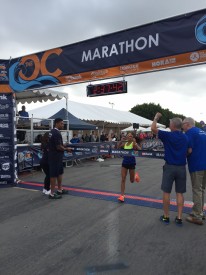 Lenore Moreno from West Covina set women's full marathon course record at 2:37:43 and Daniel Teklebrahan from Long Beach set the new standard for the men's half Marathon.
[Orange County, CA.] – A new women's full marathon course record and a new men's half marathon record were set at the 12th Annual U.S. Bank OC Marathon that took place on Sunday, May 1, 2016. Weather conditions were perfect for the more than 22,000 runners participating in the marathon, half marathon, Wahoo's OC 5K and Kids Run the OC over the weekend long event. An estimated 15,000 spectators lined the course from the start line in front of the Newport Beach Marriott Hotel & Spa to the finish line at OC Fair and Event Center, while an additional 30,000 attended the two-day Health & Fitness Expo.
Lenore Moreno of West Covina set a new course record for the women's full marathon with a finish time of 2:37:43. Bonnie Axman, who finished the 2014 U.S. Bank OC Marathon at 2:45:56, held the women's full marathon course record prior. Moreno, an NCAA Division III champion at the University of La Verne in the indoor 5,000-meter run and outdoor 10,000, has exercise-induced anaphylaxis, which can induce a severe allergic reaction from exercise after consuming certain foods or wearing certain types of fabrics. Although every run is a health-risk for her, Morena qualified for the Olympic marathon trials earlier this year in Los Angeles.
Daniel Teklebrahan of Long Beach, originally from Eritrea, set the new standard for the current course in the men's half marathon, finishing first in 1:05:29. James Grabow set the previous course record with a finish time of 1:06:20 in 2012.
Jordan Chipangama placed first in the men's marathon with a finish time of 2:24:07.  Ariana Hilborn finished the women's half marathon first in 1:16:45. In the 5k, Hunter Bliss finished first in men's in 16:15 and Julie Ertel finished first in women's in 17:57.
The mayors from each of the host cities including, Newport Beach, Costa Mesa, Irvine and Santa Ana, participated in the half marathon to promote a healthy lifestyle for kids. Santa Ana Mayor Miguel Pulido finished first out of his fellow mayors in 2:10:37. The new Mayors' Miles for OC Kids program helps fund-raise for scholarships for children to participate in the 2017 Kids Run the OC Program and purchase running shoes for the scholarship students.
The 2016 U.S. Bank OC Marathon Charity Partner Program surpassed this year's fundraising goal of $500,000, raising more than $515,000 by May 2, 2016. That is more than double the funds raised through the 2015 Charity Partner Program.
On Saturday, April 30, over 8,400 kids from 115 local schools participated in Kids Run the OC (KROC), presented by Nutrilite™. Produced by the OC Marathon Foundation, KROC has quickly become one of the largest youth training programs of its kind, helping children in Orange County become more physically fit through the encouragement of healthy habits to combat the onset of childhood obesity.
The U.S. Bank OC Marathon is made possible by the generous support of its partners, which include U.S. Bank, Wahoo's Fish Taco, Costa Mesa Conference and Visitor Bureau, Hoka One One, Erdinger Non-Alcoholic, Honey Stinger, UPS, Massage Envy, Avenue of the Arts Costa Mesa, Marriot Newport Beach Hotel and Spa, Manatt, Gatorade, and TruMoo.
2016 Champions:
Marathon Men (2:24:07): Jordan Chipangama, Flagstaff, AZ
Marathon Women (2:37:43): Lenore Moreno, West Covina, CA
Half Marathon Men (1:05:29): Daniel Teklebrahan, (Eritrea) Long Beach, CA
Half Marathon Women (1:16:45): Ariana Hilborn, Solano Beach, CA
The U.S. Bank OC Marathon Course Records:
Marathon Men (2:22:45): Peter Omae Ayieni, Kenya
Marathon Women (2:37:43): Lenore Moreno, West Covina, CA
Half Marathon Men (1:05:29): Daniel Teklebrahan, Long Beach, CA
Half Marathon Women (1:15:51): Ariana Hilborn, Scottsdale, Arizona