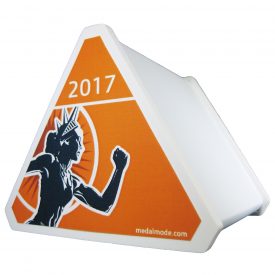 Medal Mode, the maker of innovative medal display products has released a special edition Lady Liberty Display to help athletes showcase medals earned in 2017 New York running events.
"New York is home to some of the nation's most iconic races, including the recent TCS New York City Marathon," said Medal Mode director of communications Courteney Lowe. "Athletes pour their blood, sweat and tears into training for these events, and for some it's a once in a lifetime experience.  We wanted to create a display that would embody the spirit of New York races and help athletes commemorate the achievement of completing them in a relevant and exciting way."
The Lady Liberty edition is available in 4 sizes to showcase anywhere from one to 20 medals. Whether an athlete has completed one New York race or has been collecting for years, there is a size to fit the bill! Lady Liberty Edition Medal Mode displays will be on sale at medalmode.com starting from $15.99. 10% of all sales will be donated to the Liberty Hospital Foundation LiveWell Community Grants. To learn more or order yours visit: www.medalmode.com/products/lady-liberty-edition
To learn more about Medal Mode visit medalmode.com or follow Medal Mode on Instagram, Twitter or Facebook.
About Medal Mode
Medal Mode is a family run business based out of Madison, Wisconsin. Founded by avid runners with a growing collection of finisher medals that needed a place to shine, the Medal Mode display was created as an alternative to the usual hangers and hooks that seemed to be the only option out there. Medal Mode gives you a great way to give your medals the pedestal they deserve. To learn more about Medal Mode visit www.medalmode.com