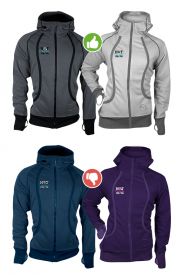 85,000 Fans Engage In Social Media Goodie Bag Choice
– Hot Chocolate 15k/5k Series Bucks Running Trend by Showing Continued Growth
– 85,000 Runners Cast Votes for Favorite Goodie Bag 
– First 14 Cities on 2016-2017 Tour Confirmed
(Chicago, IL, June 17, 2016) RAM Racing's popular Hot Chocolate Race Series announced the winning design of its online goodie bag poll today and projected that for the ninth year in a row, its participation numbers would increase. Last season, 219,000 runners took part in the Hot Chocolate 15K/5K series in 14 different cities, a boost of 8% over the previous year. Registration for the upcoming 2016/2017 series is already showing a 23% increase in early sign-ups.
Those numbers are a sharp contrast to the recent Running USA study reflecting a 9% drop in participation in footraces in 2015. The trade organization also reported a small decrease from 2013 to 2014.
Steve Ginsburg, CEO of RAM Racing, attributes Hot Chocolate's continued success to "the level of care we provide at RAM Races to our running community, the quality of benefits we give them and our never-ending search for how to make the whole Hot Chocolate experience even better. This year's goodie bag is a perfect example of that."
"Year after year we've been honored by Competitor Magazine naming the Hot Chocolate Series' goodie bag as the industry's best.  Women's Running also declared our coveted zip-up jacket as the best swag item. We didn't want to rest on those laurels however, so we decided to involve the running community at large in our creative process."
For the first time ever, RAM Racing created a social media initiative that invited fans choose their favorite of two design options for the top-of-the-line premium the Hot Chocolate Series awards to runners. Over 85,000 votes poured in and the crowd chose the classic gray option with curved graphic embellishments over the colorful jewel-toned version.
"We're very excited to produce the jacket our runners preferred and are gratified to see how many people invested themselves in this process. That kind of engagement from our runners shows how important it is to listen to what our participants want," said Ginsburg.
"We have one goal at RAM; to produce the highest quality events for our runners.  From the safety and quality of the production of our events to the quality of the chocolate itself, to the goodie bag, nothing is overlooked.  We were the first to move away from giving a forgettable logoed cotton shirt to a fashionable jacket with a value of over $100 and that has helped us continue to draw more people to our races. It's these kinds of details that attract so many new and repeat runners to the Hot Chocolate Series. We can't wait for the season to begin."
RAM confirmed fourteen cities as part of the 2016/17 Hot Chocolate Race Series beginning with Denver in October and finishing in Minneapolis next April. The series originated with a single Hot Chocolate Race staged in Chicago in 2008. RAM expanded the Hot Chocolate concept to four cities in 2012 and has been adding races by popular demand ever since. (Please check RAM Racing for possible additional locations in the future.)
Denver, CO                 10/2/16
Chicago, IL                  10/30/16
Columbus, OH            11/20/16
Scottsdale, AZ             12/04/16
Louis, MO              12/11/16
San Francisco, CA      1/8/17
Atlanta, GA                 1/22/17
Dallas, TX                   2/4/17
Nashville, TN              2/11/17
Las Vegas, NV             2/26/17
Seattle, WA                 3/5/17
San Diego, CA             3/19/17
Philadelphia, PA        4/1/17
Minneapolis, MN       4/5/17
-30-
About RAM Racing:
RAM Racing is comprised of three intertwined divisions; RAM Races, RAM Production and EnMotive; that offer turn-key expertise in every aspect of the racing industry. RAM Races owns and operates the Hot Chocolate 14-city 15k/5k Race Series, the nation's premiere race series, as well as a stable of other regional races. RAM Racing Production offers operations, management, equipment, marketing and consulting to independent race owners and directors to help them elevate their events. RAM's EnMotive serves as a one-stop technology solution offering fully customizable registration, timing and photography capabilities.  RAM's mission is to create and execute race parties that elicit an unforgettable and unimaginable emotional experience from start to finish. An event company for more than fifteen years, the RAM Racing brand has become synonymous with the highest quality USATF officially certified and sanctioned running races that also maintain a family-friendly race environment. RAM's top of the line runner goodie bags paired with efficient registration and timing processes appeal to elite and first-time runners alike. For more information on RAM Racing and for a full list of RAM's event cities and local races, please visit www.RAMRacing.org and look for us on Facebook, Twitter and Instagram.