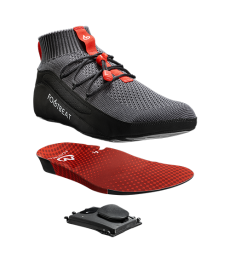 Footbeat keeps your legs feeling fresh before and after rigorous training
Grand Junction, CO – Oct. 9, 2017 – Footbeat (http://footbeat.com/sport), a leader in circulatory enhancement, will release a first-in-class athletic recovery device that accelerates recovery time and improves performance giving athletes a new competitive edge.
Unlike bulky, first generation recovery devices, you can take Footbeat anywhere. It's easy-to-use, enabling athletes to warm-up and recover without interrupting their training schedules.
Starting October 9th, Footbeat will be exhibiting at the Ironman Triathlon World Championships in Kailua, Kona where visitors will be the first to experience this revolutionary technology. Footbeat increases circulation to accelerate the supply of glucose, oxygen, protein, and water to fatigued muscles. Increased circulation promote healing so muscles repair properly and athletes don't see an escalation to injury. Footbeat's patented recovery method is painless, leaving users refreshed after using it and experiencing increasing performance the next day.
Footbeat launched after 10 years of research and development, with several clinical studies evaluating the impact of enhanced circulation on performance and accelerated healing. "Footbeat replicates what the body does naturally, only faster, so we knew athletes would benefit.  However, the results have been far beyond our expectations", said Matt Mayer, CEO of Footbeat. "Having worked directly with athletes in a diverse range of sports, we've seen an overall reduction in recovery time, an increase in warm-up efficiency, and a dramatic improvement in next day performance."
Footbeat is small enough to be contained in a shoe and can be used immediately before and after training.  "We consistently heard athletes complain about being tied down in a chair with cords, tubes and inflatable leg sleeves for hours, unable to do much else," continued Mayer.  "Footbeat is changing recovery by eliminating all of that and enabling athletes to recover without changing their already busy routine. Footbeat's cordless operation is portable and travel-friendly, allowing athletes to warm-up and recover where they want, when they want and on their own schedule."
Additionally, Footbeat will be exhibiting at the November Ironman Arizona in Tempe Triathlon where visitors will have the opportunity to experience Footbeat firsthand.  To schedule a demo during Kona or Tempe's triathlon expos, contact Sara Russell at sara@footbeat.com.  For more information about Footbeat visit http://footbeat.com/sport.
About Footbeat
Footbeat is a first-in-class athletic recovery device, which fundamentally changes the method of circulatory enhancement in the lower extremities. By applying precise, cyclic pressure on the arch of the foot, Footbeat increases blood velocity to assist in the removal of metabolic waste and tissue fluid.  Footbeat is easy-to-use, fits into active routines, and is ideal of travel. Through clinical studies, Footbeat is proven to improve performance and naturally speed healing so athletes recover faster and train harder. To learn more about Footbeat, visit footbeat.com/sport.
PR Contact:
Sara Russell
sara@footbeat.com
801.979.5253