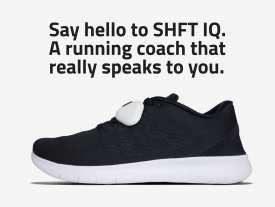 On March 14, SHFT IQ launched on crowdfunding site Kickstarter, starting from $59 for the Super Early Bird edition. SHFT IQ is the world's first virtual running coach with Artificial Intelligence created in collaboration with Intel. SHFT hopes to raise $50.000 to bring the world's first virtual running coach with Artificial Intelligence to consumer market.
SHFT IQ is the running coach you can bring on all your runs. It is ideal for every runner, particularly beginner and intermediate runners who typically do not consider having their own running coach, but would love to have one. Whether it is once a week or every day, SHFT IQ will help you run right. SHFT IQ gives you real-time coaching, full body metrics, 3D animations, coach reports, complete run stats and training drills. Through the pod, SHFT IQ will accurately measure and analyze your running style. SHFT IQ turns this data into live feedback and coaching as you run, which will turn you into a faster, safer, happier runner. After each run, you will be able to see a full breakdown of your technique with tips on which areas need work.
"After releasing our two-pod solution, we quickly realized that we needed to both simplify and lower the cost for adopting any new wearable technology with the beginner and intermediate runners," said Tony Motzfeldt, CEO of SHFT ApS. "… So we decided to introduce SHFT IQ via Kickstarter to help us bring this product to market faster" Tony Motzfeldt continued.
INTEL INSIDE
SHFT IQ's hardware platform is utilizing Intel's Curie module, which will accurately measure the length of your stride, the strike of your foot and the tilt of your body. SHFT IQ takes in hundreds of these readings every second and uses its sophisticated software coaching engine to give you live feedback through your headphones. In addition, SHFT IQ will be using Intel's Artificial Intelligence Pattern Recognition algorithms for more accurate and precise measurements, making it the most accurate running wearable on the market today.
SHFT IQ METRICS
Landing Position
Steps Per Minute
Ground Contact Time
Time In Air
Landing Angle
Toe-off Angle
Steps Length
G-landing
Watt
Running Efficiency
Brake Effect
Body Bounce
Body Angle
Ready to run ? You can back SHFT on Kickstarter now; starting at $59 for the Super Early Bird edition.
ABOUT SHFT
SHFT is a tech startup based in Boston, US and Copenhagen, Denmark. Founders Tony Motzfeldt and Stefan Barfred who both hold a degree in Computer Science, lead the team. They are both passionate runners and entrepreneurs with three decades of experience in computer science, tech and software. They joined forces with a vision to create a virtual running coach who could help all runners run right. SHFT two-pod solution hit the market in the spring of 2016 and today, almost four years after their first brainstorm, SHFT IQ, the world's first virtual running coach with Artificial Intelligence, is finally ready for the consumer market.
Media Contact: Ina Stinus, Chief Marketing Officer, is@shft.run