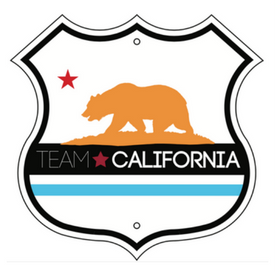 Echelon Racing Development; entering it's third year as a USAC registered Domestic Elite Team (DET) will rebrand as Team California for 2018 partnering with Freddie "Fast Freddie" Rodriguez, 4-Time US National Champion and his Fast Freddie Foundation.
Continuing to build on the foundation of success, Team California will focus on the USA Cycling Pro Road Tour (PRT) and UCI 1.2 and 2.2 UCI America's Road Tour events. Equally important, Team California riders and staff will be actively attending and working as ambassadors to the sport and giving back to the community through the Fast Freddie Foundation and with competitive Gran Fondo-style races, including a partnership with the world's most prestigious cycling event series, Haute Route North America.
"With a growing trend of longer endurance events, like Haute Route, the riders will be exposed to big days on the bike to prepare them for ProTour level events", said Freddie Rodriguez. Team California believes that a strong connection with the cycling community will open a pathway for needed growth and expansion in road cycling in the US.
"I'm very excited to help launch Team California with the goal of not only teaching young riders how to reach their full potential but also to make them understand the beauty of giving back", said Freddie Rodriguez. "The Fast Freddie Foundation mission of getting young people on bikes for a healthy life will be the perfect balance that I hope will help our team be successful in all parts of their life. I created the foundation to give back to a sport that gave me so much as a young racer and I hope to get our Team California youth started off early in their desire to give back.
Team California has retained a diverse and powerful roster for 2018, thanks to the support of incredible partners dedicated to the development of cycling, such as Storck, who will supply their fastest racing machines; the Fascinario F.3 Road and Aero 2 TT platforms along with Full Speed Ahead and Vision Components.
"After three years of growth and a lot of time on the learning curve, the partnership with Freddie and the Foundation just feels right" said AJ Kennedy. "We are looking to support athletes that represent the best in cycling and sportsmanship. Combine that with Fast Freddie's involvement, we are working to make this one of the top programs in the US"
About Team California
Team California is Domestic Elite Cycling Team registered with USA Cycling and based in Northern California. With a focus on U23 and U25 riders, the current team has grown from the multiple programs and teams AJ has been involved with. The focus on creating a development squad was decided upon in 2012. Managing director AJ Kennedy realized the need for a transition program for young riders leaving the junior ranks and moving up to the elite level. The focus during the 2013 season was to create the initial squad and build a core group of riders that became the foundation for adding young talent. From 2014 through 2016, a number of riders were added to the roster with the goal of reaching the highest level – the Pro Road Tour and UCI invitation races. The 2017 season sees the team take on the new name of Team California and continue to build the program.