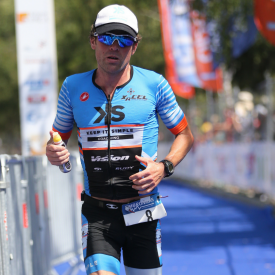 KIS performance Team Coach and XRCEL Athlete Scott DeFilippis delivered another great race grabbing the number 7 spot.
Charleston, SC (August 21, 2018) –  XRCEL Athlete Fuel  sends out a big congratulations to its ambassador and KIS Performance Team coach Scott DeFilippis for his 7th place finish in what some may consider the world's most difficult iron distance race, Embrunman. 
There isn't a harder working triathlete out there than Scott DeFilippis, said Laura DeMeo, Business Development Manager – Endurance Sports for Team XRCEL. "After a year of nagging injuries, Scott has made his way back to an elite level of racing thanks to is extremely hard work ethic and dedication to the sport. It's no surprise that Scott turned in a 7th place finish at Embrunman, one of the most difficult full distance triathlons on the racing circuit. Scott not only knows how to self-coach and prepare himself for these types of challenging races, but he has proved himself as a coach once again, helping his KIS Coaching athlete, Carrie Lester, take home another win. We are so proud to fuel Scott as he continues to excel as an athlete and coach."
"To cap off our summer of racing around France with a top 10 at Embrunman, (The World's toughest Iron Distance Event) is a very great feeling, said DeFilippis. "Once again XRCEL kept me fueled all day long helping me run through the field into 7th place overall. XRCEL's patented formula works…and my run splits show that if I'm topped up with fuel, off the bike, I can run up the podium!"
About XRCEL® Athlete Fuel
XRCEL Athlete Fuel is a revolutionary extended release carbohydrate supplement formulated with patented pH and temperature responsive micro-gel technology developed by New World Pharmaceuticals, LLC.  XRCEL is a caffeine and banned substance free supplement designed to provide athletes with extended release muscle and brain fuel so that they may get the most out of their training and competitions. 
New World Pharmaceuticals is based in Charleston, South Carolina. For more information, please visit http://www.NewWorldPharma.com.
For More Information 
Media Inquiries:
Lisa Sexton
843.737.6192 Ext 104
Lisa@XRCEL.com