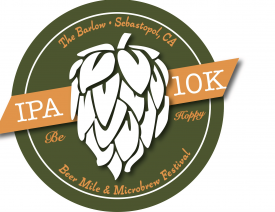 The Barlow hosts IPA 10K, Beer Mile Invitational and Microbrew Festival
Sebastapol, CA (April 4, 2018) – Destination Races and Motiv Sports announced today an elite class field of competitors for the Beer Mile Invitational in Sebastopol, California taking place on April 13-14. The Beer Mile Invitational is part of a two-day celebration of running and beer, set in the heart of Sonoma County's legendary craft brew scene.  Other events include the IPA 10K, Microbrew Music Festival, and Marketplace Expo.  All events are held at The Barlow, an open-air marketplace featuring a variety of shops, restaurants, breweries and Community Market.  
This elite field is headlined by Corey Bellemore, of Ontario Canada, the current world record holder capable of consuming a 12-ounce beer every quarter-mile lap while running the beer mile in a remarkable four minutes and 34 seconds. Brandon "Hurricane" Shirk, the US record holder at 4 minutes and 47 seconds, returns to the Barlow to defend his Beer Mile Invitational men's title from last year. Lindsay Harper is also back to defend her title, but this year will be up against Allison Grace Morgan of Bend, Oregon, the world's top ranked female beer miler making her first appearance in Sebastopol. 
The beer milers will be competing for $2,000 in prize money, presented by Fleet Feet of Santa Rosa and New Balance. Immediately following the men and women elite competition, participating breweries will be going head-to-head in the entertaining four-person team relay, as breweries compete for bragging rights and the Beer Mile Growler Award. 
The IPA 10K is a scenic 6.2-mile beer themed run that starts with a beer and cider toast at the start line. The top three in each age division win Crowlers of beer as prizes and everyone across the finish line receives a beer bottle finisher's medal, an IPA 10K shirt, and a mini-pint for the post-race Microbrew and Music Festival.  The Microbrew Music Festival takes place immediately following the conclusion of the IPA 10K. The festival features craft beer and ciders from 18 breweries in Northern California, with an emphasis on Sonoma County brewers. The Highway Poets will be performing on stage before and after the Beer Mile competition, which is scheduled for a noon start. The festival opens at 9:30am for IPA 10K runners and their guests, and then welcomes the general public at 11:00am. 
"In only two years the City of Sebastopol, The Barlow, the local brewing and running communities, and our non-profit partners, have all come together to bring this world class event to Sonoma County," said Matt Dockstader, race director and founder of Destination Races. "We're all very excited to roll up our sleeves on race day and see how it all unfolds here at The Barlow." The event benefits various non-profit groups and youth athletics in Sonoma County. 
Registration for the IPA 10K and the Microbrew Music Festival are still open and can be purchased online, in person at the Expo Marketplace at The Barlow on Friday, April 13th from noon to 6:30pm, or on the day of the event. Passes to the festival come with a special event mini-pint and cost $30. A VIP pass with elevated viewing area of the start/finish line, food, beer and commemorative IPA 10K pint glass included can be purchased for an additional $30. For registration and more information visit the event website, IPA10K.com
Event Schedule
Friday April 13th Noon to 7:00pm
Expo Marketplace at the Barlow Event Center
Packet Pickup, games, exhibitors, merchant specials
Appearance by Allison Grace Morgan, Women's Beer Mile Champion at Fleet Feet Booth at 4:00pm
Saturday April 14th
IPA 10K beer toast and start @ 8:00am (two waves)
Microbrew Festival Opens for Runners & Guests  @ 9:30am
Awards on Band Stage @ 10:00am – 10:30am
Highway Poets set 1 @ 10:30am to 11:50am
Microbrew Festival Opens to Public @ 11:00am  
Beer Mile Competition – Elite Women @ 12:00pm
Beer Mile Competition – Elite Men @ 12:20pm
Beer Mile Relay – Brewery Teams @ 12:45pm
Beer Mile Awards @ 1:00pm 
Highway Poets set 2 @ 1:15pm 
Microbrew Music Festival close @ 2:30pm
About Destination Races
Destination Races became a pioneer in the endurance industry with its first event in 2004, the Napa-to-Sonoma Wine Country Half Marathon.  The event immediately became a favorite of both competitive and casual runners.  These active lifestyles and wine enthusiasts were seeking a new running experience, one that offered an escape to renowned wine regions, a more intimate and engaging experience, a idyllic and scenic course, and the reward of a Wine & Music Festival at the conclusion of the race. 
Beyond Napa to Sonoma, there are now Wine Country Half Marathons in the Santa Ynez Valley (Santa Barbara), Willamette Valley (Oregon), Healdsburg (Northern California), Loudoun County (Northern Virginia), Woodville (WA), and Kelowna (British Columbia).  These events allow participants an opportunity to truly smell, taste and feel the terroir of each unique destination. Each event is crafted like a blend of fine red wine to be enjoyed and savored, as you experience what makes a visit to wine country so special.  http://destinationraces.com
For More Information contact:
Matt Dockstader at Destination Races, matt@destinationraces.com or 415-717-5918