Where Are America's Laziest States? Hint: It's Not Where You Think
June 12, 2015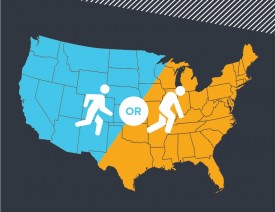 It seems the entire nation has been swept up into a collective fitness craze, with 5K selfies, FitBit stats and mud run check-ins peppering Facebook newsfeeds from Milwaukee to Miami. 
But, where do the most active racers in America live?  The usual suspects may come to mind: California, Florida and Colorado, all states that tout active, outdoor lifestyles.   While the sunny states did indeed make the list, according to data from the ACTIVE Network Activity Cloud™ data insights platform, the top-ranked states actually span a wide variety of climates, scenery and economic conditions.  
Top 10 Most Active States:
North Dakota
Hawaii
Colorado
Maryland
Alaska
Massachusetts
Wisconsin
California
Texas
Nevada
So, which states have the lowest rankings?  Well, let's just say you may want to avoid relocation to Michigan, Wyoming and West Virginia if you're looking for motivation on improving your mile time.  Each of these states reports less than three percent of their population as registered for endurance activities.  
Top 10 Least Active States:
Arkansas
Mississippi
West Virginia
South Dakota
South Carolina
Alabama
Montana
Wyoming
Michigan
Indiana
So, did your state make the cut for most active, or was it among the least?  Let's discuss!
Rankings were provided by ACTIVE Network based on millions of endurance race registrations over 3 years of data from all 50 states and the District of Columbia. 
Don't miss more endurance news, tips and best practices. Subscribe to the blog now.