UltrAspire athlete, Cory Reese, running 300+ miles in 10 days
July 10, 2019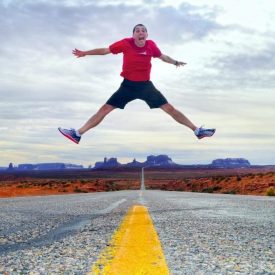 Cory has chosen to run Vol State in the "screwed" category
Vol State 500k is a gnarly race with no aid stations and no pacers. You choose to race "crewed," with a small team to help you or "screwed," completely on your own. No matter your choice, this race will push your mental and physical limits as you tackle 314 miles, in 10 days, across the state of Tennessee.
Cory Reese is an established & successful author of Nowhere Near First: Ultramarathon Adventures from the Back of the Pack and Into the Furnace: How a 135 Mile Run Across Death Valley Set My Soul on Fire, He is also an UltrAspire athlete and is setting out to complete Vol State on July 11, 2019. In previous years Cory has completed Badwater 135, Western States 100, a 100 miler around a high school track, a 100 miler around the track of a cruise ship and more than a dozen solo 100 mile runs.
When asked why he wanted to run this race, Cory said, "The Vol State 500k is so different from any race I've run before. I won't have a crew or aid stations. Being completely self-supported runners get their aid, fluid, and supplies from random gas stations and stores along the route. I'm excited for a new, unique challenge!"
Best of luck on your incredible adventure, Cory!
About UltrAspire:
UltrAspire is a high-performance, innovative outdoor gear company. From competitive endurance sports to the casual adventurer, UltrAspire keeps to a very important code which is to create an inspired outdoor experience. Gear up with UltrAspire and experience the difference at www.ultraspire.com