The IRONMAN Foundation to Help Rebuild Schools in Flood-Ravaged Peru
April 7, 2017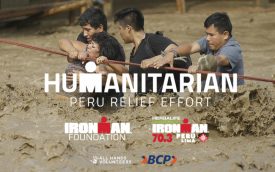 Partnership with All Hands Volunteers and Banco de Crédito del Perú, Raising Critical Funds as part of IRONMAN 70.3 Peru race week
TAMPA, Fla. (April 7, 2017) – The IRONMAN Foundation® and IRONMAN® 70.3® Peru are partnering with All Hands Volunteers and Banco de Crédito del Perú to raise critical funds in response to the catastrophic and ongoing flooding in Peru. This season, more than ten times the usual rainfall in Peru has caused devastating damage. More than 90 people have lost their lives, while approximately 900,000 are displaced and 300,000 children are unable to attend school.
"We're calling upon our IRONMAN community around the world to help us bring relief to these communities in a crucial time of need," said Sarah Hartmann, Community Relations Manager for The IRONMAN Foundation. "Donations are the best way to help relief efforts, and will support All Hands Volunteers' ongoing work to build temporary learning centers and make existing schools safe enough for Peru's children to return."
IRONMAN 70.3 Peru will take place in Lima on April 23, 2017. The IRONMAN Foundation will match all donations made by race day, up to $5,000 in total. Additionally, athletes who wish to volunteer to help rebuild the schools may register with All Hands Volunteers. This is the IRONMAN Foundation's second initiative with All Hands Volunteers; in 2016, the organizations partnered to build a community center in Manta, Ecuador as part of IRONMAN 70.3 Ecuador race week.
"When disaster strikes, homes, schools and communities are devastated," said All Hands Volunteers Executive Director and CEO Erik Dyson. "But the greatest cost is the loss of hope that can occur in the sometimes overwhelming aftermath. As we come together to restore Peru's schools, we restore the hub of the community.  But we will also show them by our actions that hope is very much alive."
For details, video, volunteer registration and to donate, visit http://bit.ly/PeruFloods.
For more information on IRONMAN and The IRONMAN Foundation, please visit www.ironman.com and www.ironmanfoundation.org. For media related inquiries, please contact [email protected].
###
About IRONMAN
A Wanda Sports Holdings company, IRONMAN operates a global portfolio of events that includes the IRONMAN® Triathlon Series, the IRONMAN® 70.3® Triathlon Series, 5150™ Triathlon Series, Iron Girl®, IRONKIDS®, six of nine International Triathlon Union World Triathlon Series races, road cycling events including the UCI Velothon Majors Series, mountain bike races, premier marathons and other multisport races. IRONMAN's events, together with all other Wanda Sports Holdings events, provide more than 680,000 participants annually the benefits of endurance sports through the company's vast offerings. The iconic IRONMAN® Series of events is the largest participation sports platform in the world. Since the inception of the IRONMAN® brand in 1978, athletes have proven that ANYTHING IS POSSIBLE® by crossing finish lines at the world's most challenging endurance races. Beginning as a single race, IRONMAN has grown to become a global sensation with more than 260 events across 44 countries. For more information, visit www.ironman.com.
About Wanda Sports Holdings
Wanda Sports Holdings is the world's leading sports business entity, founded to capture the opportunities in the global sports industry and to contribute to the prosperous international sports landscape – in three key areas: 1) Spectator Sports (media & marketing business), 2) Participation Sports (active lifestyle business), 3) Services (digital, production and service business). Wanda Sports Holding incorporates the international sports marketing company Infront Sports & Media, the iconic endurance brand IRONMAN, and Wanda Sports China. The headquarters are in Guangzhou, China.
About The IRONMAN Foundation
The IRONMAN Foundation® creates positive, tangible change in IRONMAN race communities by engaging athletes and volunteers to participate in programs that demonstrate service through sport and commitment to community. Since 2003, over $50,000,000 has been provided through IRONMAN Foundation programs to more than 6,300 local, regional, national and global nonprofit initiatives. Through these partnerships, IRONMAN athletes are powerfully linked to the community and together we leave the IRONMAN legacy behind in our race communities long after event day. For more information on IRONMAN Foundation programs, including Team IMF, Community Fund, Your Journey Your Cause, and Women For Tri, visit www.ironmanfoundation.org.
About All Hands Volunteers
Since its inception following the Indian Ocean earthquake and tsunami in 2004, All Hands Volunteers has responded to 79 disasters worldwide, engaging over 39,000 volunteers to help more than 500,000 individuals impacted by natural disasters all over the world; including Hurricanes Katrina and Sandy, Typhoon Haiyan in the Philippines and the devastating earthquakes in Nepal in 2015. Philanthropic leaders say the organization is known for being nimble, collaborative, and professional in its response to the immediate and long term needs of those suffering in the aftermath of a natural disaster. All Hands Volunteers has received Charity Navigator's highest 4 Star Rating. For more about All Hands Volunteers, visit www.hands.org