Spectrum Timing Services to Score the Skechers Performance Los Angeles Marathon with ACTIVE IPICO
October 4, 2018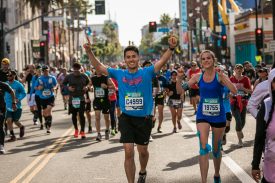 Spectrum Timing Services, Inc.1, is set to time all Conqur Endurance Group events, including the 2019 Skechers Performance Los Angeles Marathon3. Thanks to a recent partnership with ACTIVE IPICO, all Conqur events for the next three years will feature ACTIVE IPICO timing equipment.
 Los Angeles Marathon:  what to expect for 2019
The 2019 Skechers Performance Los Angeles Marathon to be held on March 24th will be 34th anniversary of the race and the 10th year of the race's iconic Stadium to the Sea Course. Starting at Dodger Stadium the Stadium to the Sea Course traverses Downtown LA, Echo Park, Hollywood, Sunset Strip, West Hollywood, Beverly Hills, Rodeo Drive, Century City, Brentwood, San Vicente and finishes on Ocean Avenue in Santa Monica.
The course has a net elevation drop of 430 feet, making the Skechers Performance Los Angeles Marathon a favorite for first-time marathoners.  An average of 53 percent of participants are novices. Weather cooperating, it is also a fast course – the fastest marathon ever run in the Western Continental U.S.A. (2:06:35) was run in L.A. by Markos Geneti in 2011.
The 2018 Marathon drew over 24,000 runners from all 50 states plus D.C. and 62 countries. One of oldest and largest community events in Los Angeles, the Marathon draws hundreds of thousands of spectators and 5-hours of live broadcast programming on KTLA.
The history of the Los Angeles Marathon points back to L.A. hosting the 1984 Olympic Games. Joan Benoit's Gold Medal in the inaugural women's Olympic Marathon captured the imagination of the City and inspired the launch of the Los Angeles Marathon in 1986.
"Technology has always played a key role in the development of the Los Angeles Marathon", said Murphy Reinschreiber, Chief Operating Office of Conqur Endurance Group.  "Our partnership with Spectrum/Active/IPICO perfectly fits our DNA.  The Los Angeles Marathon was the first major US marathon to adopt field-wide chip timing and we were very early adaptors to using Facebook, YouTube, Twitter and other social media platforms to promote the race and connect and inform our participants.  In 2017, we partnered with Snapchat to cover the entire course with over 40 unique geofilters."
Timing results for the Skechers Performance Los Angeles Marathon
In terms of what timers can expect for the 2019 Skechers Performance Los Angeles Marathon, due to the wide range of participant types and levels, finish times can be spread across an equally wide range.
Results4 from last year's marathon include:
Men's: 2:11:47 by Weldon Kirui
Women's: 2:33:50 by Sule Gedo
Men's Masters: 2:34:18 by Carlos Larios (age 45)
Women's Masters: 2:55:28 by Ingrid Walters (age 46)
Men's Wheelchair: 1:35:40 by Krige Schabort
Women's Wheelchair: 2:16:36 by Michelle Wheeler
The standing course records for finish times are as follows:
Men's: 2:06:35 by Markos Geneti (2011)
Women's: 2:25:10by Lidiya Grigoryeva (2006)
Men's Masters: 2:14:33 by John Campbell (age 42, 1991)
Women's Masters: 2:29:40 by Tatyana Pozdnyakova (age 48, 2003)
Men's Wheelchair: 1:06:52 by Tom Davis (unofficial, 2018)
Women's Wheelchair: 1:43:14 by Jenna Rollman (2017)
Due to its point-to-point layout and elevation drop, Los Angeles Marathon finish times are not eligible for official USATF records.
ACTIVE IPICO as the timing hardware of choice for Spectrum Timing Services and the Skechers Performance Los Angeles Marathon
In March 2018, Spectrum Timing began using ACTIVE's timing hardware IPICO5. As an easy-to-use solution that integrates with ACTIVE's software suite, IPICO delivers industry-leading accuracy in timing with elevated race experiences for participants. With  Skechers Performance Los Angeles Marathon  moving to  ACTIVE's registration platform, ACTIVEWorks Endurance6, it made sense to also  move to IPICO's  timing hardware to streamline operations.
"We've been thrilled at the ease-of-use and read rates," said Mike Bone, President and CEO of Spectrum Timing Services, of the company's use of IPICO since March.
Mr. Bone is an acknowledged race management leader with 25 years of industry experience. He's not only an event management expert; he's also a race director, and tools like ACTIVE IPICO help with many aspects of that job.
"ACTIVE's product integration with dynamic bib and dynamic check-in for static events gives race directors speed and accuracy, the feedback you receive from the check in process makes the entire episode more productive and efficient," he says.
For Mr. Bone, the opportunity to go to an app to see how many people have checked in allows events and timer team to not only efficiently allocate their resources, but it also gives their participants a better experience. In fact, working with ACTIVE's tools has reduced line time by 80% for some of their participants.
Spectrum Timing has managed the Surf City Run 5K for the last 17 years. This year, Mr. Bone also noticed the big differences using ACTIVE's OnSite app7. "Last year there were long lines," he says, "and this year, there was no line."
Learn more about ACTIVE Endurance OnSite and how it can save your organization time and money for your next endurance event here.
ACTIVE IPICO and the future of Conqur Endurance events
Beyond providing solutions for registration and timing for the 2019 Skechers Performance Los Angeles Marathon, the new partnership between Spectrum Timing and ACTIVE IPICO will benefit all Conqur Endurance events8 over the next three years.  Conqur's portfolio of endurance events includes:
In addition, LA-based Conqur supports these running programs:
Students Run LA — Each year 3250 at risk high school students from 185 schools and community programs across Los Angeles train alongside their volunteer mentors to complete the Los Angeles Marathon. The SRLA program12 is celebrating its 30th Anniversary in 2019. Over the years more than 57,000 SRLA students have finished the Los Angeles Marathon.
The 26th Mile – This grade school running program challenges kids to run 26 miles over an eight-weeks as part of LA Unified School District's Beyond the Bell13 after school program. Conqur is an operating partner in this program and hosts the 26th Mile at Dodger Stadium where 6,000 kids run their 26th mile and celebrate their accomplishment.
Conqur's annual contribution in entries, goods, and services to SRLA and the 26th Mile is nearly $1 Million.
LA Road Runners – The largest running training group in California, LARR14 is a 26-week program that prepares runners and walkers of all abilities for the Los Angeles Marathon.
"Conqur's participants will benefit from the partnership between ACTIVE and Spectrum Timing through year-round registration, shorter lines at events, and, of course, more accurate timing," said Mr. Bone. "Thanks to ACTIVE's integrated technology, industry experience, and well-developed partnerships, the choice of ACTIVE IPICO hardware for Spectrum Timing and Conqur Endurance Group's events was easy match. Between Spectrum's timing services and ACTIVE's solutions, we were able to create an environment for year-round registration and timing solution for  Conqur Endurance Group."
Murphy Reinschreiber agrees.  "As much as we've been pleased with the technology, we're even more pleased with people and the partnership we've had with Spectrum/Active/IPICO."
Interested in IPICO timing hardware? You can learn more about our available product catalog on our website.
References