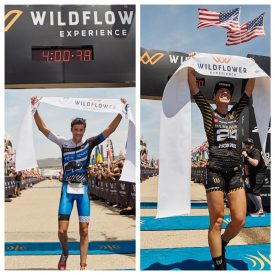 Thomas Passes the Championship Title to von Berg; Heather Jackson Cruises Into to her 4th win.
MONTEREY, Calif. – On a clear, hot day in Lake San Antonio, Monterey, Calif, Rudy von Berg had a breakout race while Heather Jackson cruised to her fourth victory at the 35th annual Wildflower Triathlon Experience.
Over 1200 athletes competed in the Wildflower Long Course event, which included a 1.2 mile swim, a 56-mile bike ride, and 13.1 mile run.
Men's Race
In the men's race, six-time defending champion, Jesse Thomas, was the day's favorite, but it was Rudy von Berg who commanded the race from the start. Davide Giardini was first out of the water followed by von Berg, less than 15 seconds behind. From there, von Berg took the lead and gave nothing away. By mile nine on the bike course, Thomas moved into third behind von Berg and Giardini. Nathan Killam held strong in fourth. At the first transition, von Berg had more than a four-minute lead over Thomas, a former Stanford University steeplechaser, who is known for running down his competitors.
"I was fighting the whole run because I knew Jesse wasn't too far back," said von Berg, 24. "But I began to relax and really enjoy that last mile. It feels amazing now. I really wanted to win this race but I knew Jesse was here and it wouldn't be an easy feat."
The day before the race, Thomas shared, "I'm going to race as hard as I can and I want to win. But if some young buck comes and takes it, I won't be as disappointed as people think." Thomas now has a five-year-old son and seven-month-old daughter, with whom he plans to spend more time.
Post-race, Thomas was both gracious and emotional.
"There's something nice about passing on the torch to a young, up and coming, incredibly talented athlete like Rudy. He's been on the scene — under the radar — for the last couple of years and I hope this will launch his career as well. He's certainly deserving of it. I'm very proud of my effort today and very proud of the time I've had here."
Nathan Killam finished third in a hard-won battle that began last December, when he was injured and couldn't run.
"I couldn't run until about three to four weeks ago and I wasn't sure my legs would hold up," said Killam. "But I've really been working on my bike and I think that made the biggest difference today that I could hang in with Jesse. You know when you have a rough winter and sometimes things just aren't clicking and then you have a good race and it just comes together? It feels pretty good. It legitimizes everything I've been sacrificing and everything my family has been sacrificing."
Killam was ninth out of the water but caught Thomas quickly and stayed on his wheel until Nasty Grade at mile 42, when Thomas pulled ahead. Coming off the bike, Killam was passed by Sean Daugherty, whom he passed back near the turnaround.
Von Berg's final time was 4:00:40, Thomas was three minutes back in 4:03:18, and Killam was third in 4:11:37. Von Berg had the fastest bike split of the day in 2:14:53 to Thomas' 2:17:52. However, Thomas dominated the run with a split of 1:17:11 to von Berg's 1:19:44.
Women's Race
In the women's race, Jennifer Spieldenner was first out of the water, followed by Laurence Delisle and Hannah Grubbs. Carrie Lester came out of the water in sixth, followed by Robin Pomeroy and Heather Jackson in eighth.
"I'm so used to that," said Jackson about her swim. But it didn't take long for Jackson to reel in her competitors and assume a commanding lead. She completely conquered the bike course with a split of 2:11:36. The next fastest split was Lester, who finished the course in 2:36:12. Robin Pomeroy had the day's fastest run in 1:31 flat compared to Lester's 1:32:18 and Jackson's 1:34:45.
"I have a pretty strong strength to weight ratio so I look for tough courses and work the hills," said Jackson after the race. "There was a hill literally straight out of transition and I caught three or four girls on that hill. That was my strategy. I would just go for it on the hills. That got me a few spots ahead. I could see some of the girls still left ahead and my goal was to try to get up to them and just settle in."
Carrie Lester raced almost entirely on her own.
"My swim wasn't that great," she said. "I swam on my own and couldn't get on the back of that group. At the end of the day, it probably wouldn't have made a difference but maybe mentally knowing I made that group would have helped. I was just a little bit flat this morning."
In the end, Jackson finished in 4:34:45, Lester was about five minutes back in 4:39:06, and Pomeroy was third in 4:46:21.
Wildflower Long Course: Lake San Antonio, California – May 5, 2018
Swim 1.2. mi. / Bike 56 mi. / Run 13.1 mi.
Preliminary Results
Men
Rodolphe von Berg (Boulder, Colorado) 4:00:40
Jesse Thomas (Bend, Oregon) 4:03:18
Nathan Killam (Vancouver, British Columbia) 4:11:37
Stephen Kilshaw (Victoria, British Columbia) 4:13:06
Sean Daugherty (Boulder, Colorado) 4:13:36
Scott DeFilippis (Cardiff by the Sea, California) 4:16:55
Jesse Vondracek (Tucson, Arizona) 4:19:36
Paul Stevenson (Scottsdale, Arizona) 4:20:47
Andrew Langfield (Oakland, California) 4:21:38
Tyler Jordan (Tucson, Arizona)  4:22:30
Women
Heather Jackson (Bend, Oregon) 4:29:48
Carrie Lester (Cardiff by the Sea, California) 4:39:06
Robin Pomeroy (Verona, Wisconsin) 4:46:21
Jennifer Spieldenner (Findlay, Ohio) 4:51:27
Kinsey Laine (Bend, Oregon) 4:54:05
Carly Johann (Culver City, California)  4:56:55
Nicole Falcaro (New York, New York) 4:58:20
Brittany Oliver (Ventura, California) 4:59:12
Leslie Miller (Reston, Virginia) 5:10:31
Kelly O'Mara (San Rafael, California) 5:14:11
About The Wildflower Triathlon
Beginning in 1983 at Lake San Antonio in Central California, The Wildflower Triathlon is one of the most iconic races in the sport. Held the first weekend in May, "The Woodstock of Triathlon," is host to a Long Course, Olympic, Sprint and Off-road Sprint distance events over the 3-day endurance sports festival. The Wildflower Triathlon Experience returns for 2018 on May 4 – 6. Learn more at www.wildflowerexperience.com
About Motiv Sports
Motiv Sports is an active lifestyle and entertainment company focused on delivering authentic and immersive live and digital experiences. Founded in 2015, Motiv Sports is headquartered in Denver, CO, with offices across the U.S., Australia, United Kingdom, Europe and Canada. With decades of experience in the sports and entertainment events industry, the company is continually refining what works while exploring unique partnerships and opportunities to further enhance the consumer experience. The Motiv Sports platform currently consists of 41 triathlon and running events and digital properties with plans to expand into several vertical industries in the outdoor lifestyle space. A belief in better is the root of all motivation. That's what Motiv Sports is all about. Learn more at www.motivrunning.com.
# # #