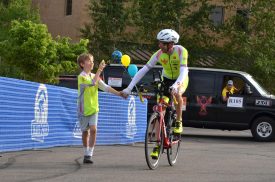 RAAM Continues to be a Major Fundraising Platform
Boulder, CO – Race Across America (RAAM), the World's Toughest Bicycle Race, concluded its 37th consecutive year of racing with some exciting competition across all categories. Above and beyond the racing, over the past 12 years RAAM has grown its reputation as a major platform for athletes to raise funds and awareness for a broad array of organizations and 2018 was no different.
Because of the growing interest in raising money for charitable funds, in 2007 RAAM created the Lon Haldeman Award. It recognizes the racer/team that raises the most funds for their charity(s) of choice.
"We noticed an increasing number of athletes were racing for charities.  We thought it was important to encourage that trend.  In general, bicycle racing can be a pretty selfish pursuit. This was a way to make racing more important. RAAM does not choose the charity; we let the racers/teams choose something important to them. Our hope is that racing for a cause will increase their passion for the organization, the race and the sport", explained Rick Boethling, RAAM Executive Director.
Since 2007, the funds raised collectively each year are in the $1.5-$2 million range. The Lon Haldeman Award winners are usually raising $500,000 or more. In 2014 and 2015, Team Intrepid Fallen Heroes (USA) raised close to $750,000 each year for the Intrepid Fallen Heroes Fund. Athletes Without Frontiers (DEN) raised close to $500,000 in 2016. In 2017, Len Forkas (USA) raised over $900,000 for Hopecam. This year Rotary RAAMs Polio (USA) raised $1,025,000, including matching funds from the Gates Foundation. Rounding out the top three fundraising teams for 2018, raising nearly $100,000 each, were The Opportunists (USA) raising money for Opportunity Early Childhood Education & Family Centers and Team NEGU (USA) raising funds for three non-profits (Jessie Rees Foundation, Augie's Quest and the Bahati Foundation). There were several racers/teams that raised over $50,000. There were close to 45 different charities that were supported by racers/teams this year.
RAAM has opened its registration for 2019 and teams representing cancer research, autism, polio and military veterans have already joined the roster. The race expects to see the trend of charitable work continue, if not increase over the coming years.
About RAAM: RAAM and SOUL EVENTS are world leaders in the sport of ultra-bicycle racing.  The team is responsible for the Race Across America (RAAM), the world's premier ultra-bicycle race, a 3000-mile coast-to-coast race across the USA, as well as the Race Across the West (RAW), an 925-mile race across the Western US, the RAAM Challenge Series, and the 6-12-24 Hour World Time Trail Championships.  In addition, they offer seminars on ultra-bicycle racing and sanction ultra-bicycle races worldwide. Visit www.raceacrossamerica.org.  Facebook, Instagram (@raceacrossamerica) and Twitter (@RAAMRaces).
###