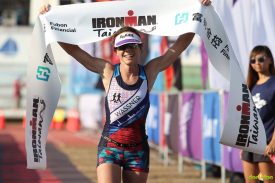 Another Ironman win for Team XRCEL with Wassner besting the competition by +40 minutes
Charleston, SC (October 3, 2017) – New World Consumer Products, LLC, a division of New World Pharmaceuticals, congratulates Laurel Wassner on her crushing win of Ironman Taiwan 2017. Laurel powered through heat and humidity on the tough Taiwan course beating the second-place finisher by more than 40 minutes.
"I used XRCEL on the bike and just kept getting stronger and stronger while my competition was fading in the heat", said Laurel Wassner. "I stayed strong throughout the race because I fueled right with XRCEL."
"We are very excited for Laurel on her big win at IRONMAN Taiwan! Not only did she have an incredible race in tough, hot conditions but she outperformed the 2nd place finish by over 40 minutes." said Laura DeMeo, XRCEL's Manager for Endurance Sports.  "Laurel has been fueling with XRCEL for almost 3 years now and keeps getting stronger! This is her first Ironman title. Earlier this year she won ISRAMAN, another tough grueling full distance triathlon. We are proud to continue to be a part of Laurel's successful Journey and enjoy having her as a member of the XRCEL family.
"We are really proud of Laurel and this win." said Fred Sexton, President and Founder of New World Consumer Products. "Laurel is having a great year, now with two iron distance wins on the international stage. Our whole family of XRCEL athletes is performing really well. We keep fueling them and they keep stacking up the wins!"
Laurel is a professional triathlete living in New York City. Laurel is also the first cancer-survivor-turned-professional triathlete and the first cancer survivor to win an Iron distance race.
Laurel with her twin sister Rebeccah race to win championships, but also to raise awareness for the fight against cancer, particularly among young adults. XRCEL is proud to support the incredible Wassner twins in all of their endeavors.
###
About XRCEL® Athlete Fuel
XRCEL Athlete Fuel is a revolutionary extended release carbohydrate supplement formulated with patented pH and temperature responsive micro-gel technology developed by New World Pharmaceuticals, LLC.  XRCEL is a caffeine and banned substance free supplement designed to provide athletes with extended release muscle and brain fuel so that they may get the most out of their training and competitions. XRCEL responds to each individual athlete's body to release fuel when and where it is needed.
About New World Consumer Products, LLC
New World Consumer Products is bringing the science of human nutrition and carbohydrate metabolism to high performance athletes with an emerging portfolio of patented products and technologies. Our flagship product, XRCEL ®, is a scientifically advanced sports performance fuel based on patented formulation technology developed by New World Pharmaceuticals, LLC.
With strong investment in the science of performance-based nutrition, guided by a leadership team of executives and university scientists with extensive operating and board-level experience in the pharmaceutical and consumer goods industries, New World Consumer Products will continue to develop breakthrough products that improve performance and endurance for work, play and sport.
The company's corporate headquarters are located in historic Charleston, South Carolina. To learn more, please visit http://www.NewWorldConsumerProducts.com.
For More Information
Media Inquiries:
Lisa Sexton
843.737.6192 Ext 104
Lisa@XRCEL.com