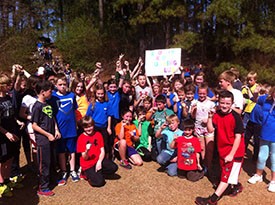 On March 31, 2014, the RRCA Kids Run the Nation grant recipient, the Keowee Kids Running Club of Seneca, SC, held its final meeting of the school year. The program is based at Keowee K-5 Elementary School and began on September 20, 2013 in conjunction with the RRCA's RUN@School Day, then met every Monday and Thursday from 3:00-3:45 thereafter. 
With a great need for after school activities at Keowee Elementary, the running club was able to provide kids an opportunity to play recreational sports they may not otherwise receive.
The club's most active participant, Owen, logged an impressive 87 total miles throughout the duration of the school year, 36 miles more than next highest total.
Still, the club's focus was on participation, not competition. Kids from all age groups and athletic abilities were able set personal goals and take pride in their achievements. Powell Duncan noted, "Among the Kindergarten-second grade students completing the program was a boy who is one of four disabled children in a self-contained classroom at the school. It was wonderful to watch him take part in the program."
The success of the program allowed organizers to supply students not only with tokens that celebrated milestone mileage marks, but also with tee-shirts that included Keowee Kids Running Club splashed across the front.
"I am so excited to offer the club again this fall," Powell Duncan said. "Running is now a positive activity for these kids.  I couldn't have done it without the grant from the RRCA and the support and direction of Kids Run the Nation program."
Help support programs like the Keowee Kids Running Club by making a donation to the RRCA's Kids Run the Nation fund.