IRONMAN Foundation to support multiple initiatives in South Africa as part of 2018 Isuzu IRONMAN 70.3 World Championship
August 27, 2018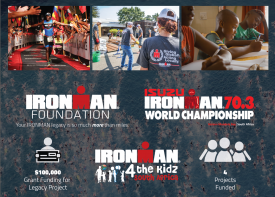 The IRONMAN Foundation to provide over $100,000 in charitable giveback and Legacy Projects in the Port Elizabeth region in 2018
TAMPA, Fla./PORT ELIZABETH, South Africa – The IRONMAN Foundation® will distribute more than $100,000 in charitable giveback to support the Port Elizabeth region in conjunction with the 2018 Isuzu IRONMAN® 70.3® World Championship, including a Legacy Project with IRONMAN 4 the Kidz Charity Trust. In addition, eight-time IRONMAN World Champion and South Africa native Paula Newby-Fraser has been named a special IRONMAN Foundation Ambassador in honor of the occasion.
Legacy Project with IRONMAN 4 the Kidz
The IRONMAN Foundation has joined forces with the local IRONMAN 4 the Kidz Charity Trust to complete four Legacy Projects in Nelson Mandela Bay. IRONMAN 4 the Kidz was founded in 2005 by rugby legend Garth Wright and his lifelong friend Gary Stephenson and to date, has distributed nearly R15-million to children's charities in South Africa. The Legacy Projects include:
Building the new Early Birds Day Care crèche in Sakhasonke Village in Port Elizabeth's Walmer Township; a visit is planned for Thursday, August 30
Restoring the Children's Cottages of the Eastern Province Child and Youth Centre; a service project is planned for Monday, September 3
Providing a new Isuzu school bus for the Heatherbank Pre- and Primary School which will transport the youngsters from the Walmer Township daily
Building a "Learn to Swim" pool at the new community centre in Walmer in conjunction with Nelson Mandela Bay Municipality
"One of the lessons that we have learned in our 14 years of providing financial assistance to beneficiaries of the IRONMAN 4 The Kidz Charity is that there is never enough that you can do," said Gary Stephenson, Trustee IRONMAN 4 the Kidz Charity Trust. "We welcome this opportunity to partner with the IRONMAN Foundation and raise some additional funds to dedicate to specific Legacy Projects during the hosting of the 2018 Isuzu IRONMAN 70.3 World Championship."
Inside IRONMAN Village in the IRONMAN Foundation area on Wednesday, August 29 through Friday, August 31, athletes are invited to pack a backpack for the students served by the Eastern Province Child and Youth Centre. The backpacks will be delivered by athletes and volunteers on Monday, September 3, during the IRONMAN Foundation service project where they will meet the students and help paint and restore school cottages.
"It is an honor to be named a special IRONMAN Foundation Ambassador for the 2018 Isuzu IRONMAN 70.3 World Championship," said IRONMAN Hall of Fame Member Paula Newby-Fraser. "To meet the children, participate in the Legacy Project and give back to the community will be a true highlight."
Women For Tri Special Grant Presentation
Women For Tri®, an initiative of the IRONMAN Foundation launched by IRONMAN to bring more women into the sport of triathlon, will present a special grant to Ketsh Up, a local, all-women's triathlon club. The award will be used to host training and skills clinics to empower the women to swim, bike and run.
Women For Tri Advisor Katherine "Kelly" Lang, famous for her long-running character Brooke Logan on CBS' The Bold and the Beautiful will host an exclusive invite-only Women For Tri Panel & Tea. The special Women For Tri grant will be presented to Ketsh Up as part of the event. Panelists include professional and age-group athletes, local to South Africa and from around the world.
"This year's IRONMAN 70.3 World Championship includes nearly 400 additional age-group women racing at the invitation of Women For Tri," said Kyrsten Sinema, U.S. Representative, Arizona – 9th Congressional District and president of the Women For Tri Committee of Advisors. "Their participation supports Women For Tri's grant programs, and we're excited to make a special club grant to Ketsh Up in their honor."
"We are truly honored to partner with IRONMAN 4 the Kidz and Ketsh Up and support their initiatives," said Sarah Hartmann, acting Executive Director of the IRONMAN Foundation. "Together we're leaving a lasting impact and our IRONMAN legacy here in South Africa."
The IRONMAN Foundation Community Fund provides community and volunteerism grant opportunities to non-profit organizations where IRONMAN® events are held. In 2018, the IRONMAN Foundation will distribute more than $1.7 million in grant funding to support the needs of race communities around the world.
For more information on IRONMAN and The IRONMAN Foundation, please visit www.ironman.com and www.ironmanfoundation.org. For media related inquiries, please contact [email protected].
###
About the IRONMAN Foundation
The IRONMAN Foundation® creates positive, tangible change in IRONMAN race communities by engaging athletes and volunteers to participate in programs that demonstrate service through sport and commitment to community. Since 2003, over $50,000,000 has been provided through IRONMAN charitable giveback programs including the IRONMAN Foundation to more than 6,300 local, regional, national and global nonprofit initiatives. Through these partnerships, IRONMAN athletes are powerfully linked to the community and together we leave the IRONMAN legacy behind in our race communities long after event day. For more information on IRONMAN Foundation programs, including Team IMF, Community Fund, Your Journey Your Cause, and Women For Tri, visit www.ironmanfoundation.org.
About Women For Tri
Women For Tri®, a program of the IRONMAN Foundation launched by IRONMAN in 2015, works to increase female participation at all levels of triathlon. The program seeks to identify and diminish primary barriers to entry and mobilize triathlon advocates to encourage and engage female athletes across all race distances and representing all athletic abilities. Since inception, over $248,000 in grants have been awarded to triathlon clubs supporting female participation initiatives. Women For Tri embodies the heart and soul of what makes the sport so rewarding: testing your ability, overcoming challenges, and realizing the full depth of your potential in the most widely recognized test of endurance – triathlon. Learn more at www.womenfortri.com and join the Women For Tri online community of 40,000+ female triathletes at www.facebook.com/groups/WomenForTri.
About IRONMAN 4 the Kidz
In 2005 ex Springbok Garth Wright and Gary Stephenson took on the challenge to raise funds for the kids of the Eastern Cape.  The success of their participation in the first full IRONMAN in Port Elizabeth resulted in the formation and registration of the IRONMAN 4 the Kids Charity Trust. After successfully raising R11 000 in 2005, they would never have thought that they would be entering 2018, for their 14th year of fund raising, with the aim of raising over R2.2 Million to ensure that the Trust can continue to make difference to thousands of kids in South Africa. For more information, visit www.ironman4thekidz.co.za
About the IRONMAN 70.3 World Championship
In 2006 the inaugural IRONMAN® 70.3® World Championship was held in Clearwater, Florida becoming another test for the world's elite triathletes. Since that auspicious beginning, the IRONMAN 70.3 World Championship has grown in stature and popularity moving first to Henderson, Nevada in 2011, where athletes encountered a more challenging terrain and then to Mont-Tremblant, Quebec—its first stop on the new "global rotation" for the championship. The event reached European soil for the first time ever in 2015, with Zell am See, Austria, hosting an epic and memorable event. In 2016, the race moved from the mountains to the beaches of the Sunshine Coast in Queensland, Australia. In 2017, the race returned to North American making it way to Chattanooga, Tennessee and marked the first time that the event would take place over two days. This year marks the first time the event will be held on the African continent, taking place in Nelson Mandela Bay, South Africa and for the second year will be a two-day race. More than 185,000 athletes are expected to participate in a season of qualifying races for the championship, a series which consists of over 100 events in locations such as Australia, Brazil, China, Germany, South Africa and Switzerland. Approximately 4,500 athletes from around the world are expected to qualify to compete in this prestigious race. Participants in the IRONMAN 70.3 World Championship have ranged in age from 18 to 85-plus, and represented 90 countries, territories and regions. In 2019, the event will be hosted in Nice, France.
About IRONMAN
A Wanda Sports Holdings company, IRONMAN operates a global portfolio of events that includes the IRONMAN® Triathlon Series, the IRONMAN® 70.3® Triathlon Series, 5150™ Triathlon Series, the Rock n' Roll Marathon Series®, Iron Girl®, IRONKIDS®, International Triathlon Union World Triathlon Series races, road cycling events including the UCI Velothon® Series, mountain bike races including the Absa Cape Epic®, premier marathons including the Standard Chartered Singapore Marathon, and other multisport races. IRONMAN's events, together with all other Wanda Sports Holdings events, provide more than a million participants annually the benefits of endurance sports through the company's vast offerings. The iconic IRONMAN® Series of events is the largest participation sports platform in the world. Since the inception of the IRONMAN® brand in 1978, athletes have proven that ANYTHING IS POSSIBLE® by crossing finish lines at the world's most challenging endurance races. Beginning as a single race, IRONMAN has grown to become a global sensation with more than 230 events across 53 countries. For more information, visit www.ironman.com Wanda Sports Holdings
Wanda Sports Holdings is the world's leading sports business entity, founded to capture the opportunities in the global sports industry and to contribute to the prosperous international sports landscape – in three key areas: 1) Spectator Sports (media & marketing business), 2) Participation Sports (active lifestyle business), 3) Services (digital, production and service business). Wanda Sports Holding incorporates the international sports marketing company Infront Sports & Media, the iconic endurance brand IRONMAN, and Wanda Sports China. The headquarters are in Guangzhou, China.