IRONMAN Foundation to Launch Gold Star Initiative and Host Third Annual Junior Seau Adaptive Surf Clinic in Oceanside
April 2, 2019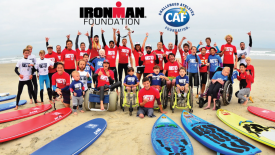 TAMPA, Fla./OCEANSIDE, Calif. – The IRONMAN Foundation® will distribute more than $33,000 in charitable giveback to nonprofit initiatives and groups in the greater Oceanside area in conjunction with the 2019 IRONMAN® 70.3® Oceanside triathlon taking place on Saturday, April 6, 2019. This year's grant funding brings the total giveback to $268,840 given to more than 170 organizations in the region.
Race Week
IRONMAN 70.3 Oceanside will be the official kickoff event for the Gold Star Initiative, a program in partnership between the IRONMAN Foundation and wear blue: run to remember, a national nonprofit running community that honors the service and sacrifice of the American military. Through the Gold Star Initiative, IRONMAN athletes who have served in the U.S. military will carry the American flag during the run portion of the event and present it to a Gold Star Family. This program allows athletes to play a part in the healing process of those families who have lost a loved one in the name of freedom.
"It's no secret that war tears apart families who lose a loved one. Veterans often come back with survivor's guilt, and our communities have a hard time knowing how to help," said Mike Ergo, Co-Ambassador of the Gold Star Initiative, IRONMAN athlete, and United States Marine Corps veteran. "This program will bring these three groups together to celebrate the power of love and connection, which is deeper and stronger than all of the hurt. We get to race together and be part of the whirlwind of positive energy that IRONMAN brings to everyone on race day."
Tu Tran served as a Communications Officer in the United States Marine Corps in both Iraq and Afghanistan from 2005 to 2015.  An accomplished endurance athlete, Director of Team Wattie Ink: Elite Team and Hit Squad and a current Microsoft employee, Tran will carry the flag in honor of USMC Lieutenant Corporal Abraham Simpson, who was hit by a rocket propelled grenade in the Second Battle of Fallujah in 2004 and killed at the age of 19. Simpson was the oldest of three sons, all of whom served. His mother, Maria Simpson of Chino, CA, will receive the flag.
To further support the healing process, Gold Star families will be provided with scholarships to participate in the wear blue Gold Star Race program, providing them with access to training, support, and entry into various running events, empowering them to process their grief and heal though running.
Service Project
The IRONMAN Foundation will host its third annual Junior Seau Foundation Adaptive Youth Surf Clinic presented by Challenged Athletes Foundation on Sunday, April 7, 2019. The event will include specialized sessions for youth, women and military/adults with physical challenges and will be held in conjunction with the 2019 IRONMAN 70.3 Oceanside triathlon taking place on Saturday, April 6.
"The IRONMAN Foundation is honored to be partnering with Challenged Athletes Foundation for the third year to host this extraordinary event," said Michael Lynn Sills, Community Relations Manager for the IRONMAN Foundation. "The clinic serves as a truly rewarding experience for the CAF heroes and IRONMAN athletes and embodies the IRONMAN Foundation mantra of 'Service Through Sport, Commitment to Community.'"
The clinic will host three specialized sessions that will total up to 30 children, women and military/adults with physical challenges who will spend the morning learning to paddle and surf at Oceanside Pier with the assistance of volunteers, including professional and age-group triathletes and coaches. The Junior Seau Foundation Adaptive Surf Clinic presented by Challenge Athletes Foundation provides the opportunity for participants with physical challenges to learn how to surf, improve their skills, and ultimately share in a lifestyle sport that so many in Southern California enjoy. The clinic celebrates the legacy of Junior Seau, the former San Diego Chargers linebacker who lived in Oceanside and surfed regularly.
Highlighted service project volunteers include:
Paula Newby-Fraser: Eight-time IRONMAN World Champion and IRONMAN and USA Triathlon Hall of Famer, Paula Newby-Fraser recorded a total of 24 IRONMAN race victories in her career spanning 1986-2002. "The Queen of Kona" also joins the 2019 IRONMAN Foundation on the Ambassador Team.
Mike Reilly: The official "Voice of IRONMAN" worldwide and a member of the IRONMAN Hall of Fame, the USA Triathlon Hall of Fame and the Running USA Hall of Champions, Reilly is the only person to have been inducted into all three. He has announced more than 180 IRONMAN triathlons and, for the third year, he currently serves as the IRONMAN Foundation Ambassador Team Captain.
Daniela Ryf: Four-time IRONMAN World Champion and four-time IRONMAN 70.3 World Champion, Ryf is a native of Switzerland who represented her home country in the 2008 and 2012 Summer Olympics. She currently stands as the only professional triathlete in history to win four IRONMAN and IRONMAN 70.3 World Championships.
Sarah True: IRONMAN Foundation Pro Ambassador and two-time Olympian, True was the top female professional from the United States at the 2018 IRONMAN World Championship brought to you by Amazon, finishing in fourth place.
"The Challenged Athletes Foundation (CAF) is honored to partner with the IRONMAN Foundation and the Junior Seau Foundation to host this adaptive surf clinic for local challenged athletes who want to learn to surf and expand their skillset catching waves," said Virginia Tinley, CAF Executive Director. "It's truly a community event where many of the volunteers are pro and age group triathletes who raced IRONMAN 70.3 Oceanside the day before and want to give back. Surfing adds a great extension to the weekend's events where CAF's mission comes to life in our hometown."
To register for the IRONMAN Foundation 2019 Junior Seau Foundation Adaptive Surf Clinic presented by Challenged Athletes Foundation as a participant, surf coach or volunteer, please visit www.ironmanfoundation.org/oceanside.
For more information on IRONMAN and the IRONMAN Foundation, please visit www.ironman.com and www.ironmanfoundation.org. For media related inquiries, please contact [email protected].
###
About the IRONMAN Foundation
The IRONMAN Foundation® creates positive, tangible change in IRONMAN race communities by engaging athletes and volunteers to participate in programs that demonstrate service through sport and commitment to community. Since 2003, over $50,000,000 has been provided through IRONMAN charitable giveback programs including the IRONMAN Foundation to more than 7,800 local, regional, national and global nonprofit initiatives. Through these partnerships, IRONMAN athletes are powerfully linked to the community and together we leave the IRONMAN legacy behind in our race communities long after event day. For more information on IRONMAN Foundation programs, including Team IMF, Community Fund, Your Journey Your Cause, and Women For Tri, visit www.ironmanfoundation.org.
About wear blue: run to remember
wear blue: run to remember honors the service and sacrifice of the American military. With communities spanning the globe, wear blue empowers our nation's families of the fallen, supports our military and their dependents, and remembers our nation's fallen heroes. As highlighted in The Washington Post, Fox & Friends, NPR, The Military Times, and Good Morning America, wear blue's tribute Mile, featured on Rock'n'Roll Marathon race courses, has been identified as the most patriotic mile on a race course. For more information, visit www.wearblueruntoremember.org
About Junior Seau Foundation
Junior Seau established the Junior Seau Foundation in 1992 to raise money and resources for programs that inspire young people to face life's challenges with enthusiasm, hope and dignity. The Foundation assists programs and activities that educate and empower young people, including through the support of child abuse prevention efforts, drug and alcohol awareness, anti-juvenile delinquency programs, and youth oriented educational programs. The Junior Seau Foundation has donated over $4 million to local youth organizations and other such worthy causes in San Diego County since its inception.
About the Challenged Athletes Foundation
The Challenged Athletes Foundation® (CAF) is a world leader in helping people with physical challenges lead active, healthy lifestyles. CAF believes that participation in physical activity at any level increases self-esteem, encourages independence and enhances quality of life.  Since 1994, more than $80 million has been raised and nearly 15,000 funding requests from people with physical challenges in all 50 states and dozens of countries have been satisfied. Additionally, CAF's outreach efforts reach another 60,000 individuals each year. Whether it's a $2,500 grant for a handcycle, helping underwrite a carbon fiber running foot not covered by insurance, or arranging enthusiastic encouragement from a mentor who has triumphed over a similar challenge, CAF's mission is clear: give opportunities and support to those with the desire to live active, athletic lifestyles To learn more, visit www.challengedathletes.org.
About IRONMAN
As part of Wanda Sports Holdings, the IRONMAN Group operates a global portfolio of events that includes the IRONMAN® Triathlon Series, the IRONMAN® 70.3® Triathlon Series, 5150™ Triathlon Series, the Rock 'n' Roll Marathon Series®, Iron Girl®, IRONKIDS®, International Triathlon Union World Triathlon Series races, road cycling events including the UCI Velothon® Series, mountain bike races including the Absa Cape Epic®, premier marathons including the Standard Chartered Singapore Marathon, trail running like Ultra-Trail Australia™, and other multisport races. IRONMAN's events, together with all other Wanda Sports Holdings events, provide more than a million participants annually the benefits of endurance sports through the company's vast offerings. The iconic IRONMAN® Series of events is the largest participation sports platform in the world. Since the inception of the IRONMAN® brand in 1978, athletes have proven that ANYTHING IS POSSIBLE® by crossing finish lines at the world's most challenging endurance races. Beginning as a single race, IRONMAN has grown to become a global sensation with more than 230 events across 53 countries. For more information, visit www.ironman.com.
About Wanda Sports Holdings
Wanda Sports Holdings is the world's leading sports business entity, founded to capture the opportunities in the global sports industry and to contribute to the prosperous international sports landscape – in three key areas: 1) Spectator Sports (media & marketing business), 2) Participation Sports (active lifestyle business), 3) Services (digital, production and service business). Wanda Sports Holding incorporates the international sports marketing company Infront Sports & Media, the iconic endurance brand IRONMAN, and Wanda Sports China. The headquarters are in Guangzhou, China.