Idaho Lifeguards to Receive New Equipment from The IRONMAN Foundation
August 24, 2017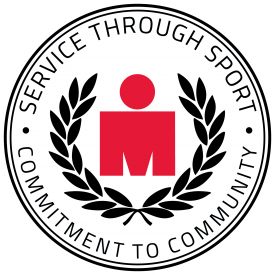 Funding part of $60,000 in charitable giveback at 2017 IRONMAN Coeur d'Alene
TAMPA, Fla. (August 24, 2017) – The IRONMAN Foundation® will distribute $60,000 in charitable giveback to non-profit initiatives and groups in the greater Idaho Panhandle and Spokane regions in conjunction with the 2017 IRONMAN® Coeur d'Alene triathlon taking place on Sunday, August 27. As part of the  giveback, new goggles will be given to the City of Sandpoint's lifeguards. Community Grants will also be awarded to the Coeur d'Alene Recreation Department, Salvation Army Ray and Joan Kroc Center, Boys & Girls Club of Kootenai County, Kootenai Health Foundation and North Idaho College Foundation.
"We're truly grateful for The IRONMAN Foundation's support of our lifeguards," said Kim Woodruff, Parks and Recreation Director for the City of Sandpoint. "These new goggles will facilitate underwater grid search in a safe and more effective way and impact countless lives."
The Coeur d'Alene Recreation Department will use their Community Grant to support multiple recreation and fitness activities in Kootenai County, including Specialized Needs Recreation. The Salvation Army Ray and Joan Kroc Center will use their grant to fund the "Third Grade Learn to Swim Program," where, for eight years, thousands of local children learn to swim annually. Grant funding will support multiple initiatives for the Boys & Girls Club of Kootenai County, Kootenai Health Foundation and North Idaho College Foundation.
The IRONMAN Foundation Community Fund provides community and volunteerism grant opportunities to non-profit organizations where IRONMAN® events are held. In 2017, The IRONMAN Foundation will distribute more than $1.5 million in grant funding to support the needs of IRONMAN race communities across North America.
"It's an honor to support so many local community organizations and their incredible initiatives," said Sarah Hartmann, Community Relations Manager for The IRONMAN Foundation. "Together we are creating a long-lasting and tangible impact here in Idaho."
For more information on IRONMAN and The IRONMAN Foundation, please visit www.ironman.com and www.ironmanfoundation.org. For media related inquiries, please contact [email protected].
###
About The IRONMAN Foundation
The IRONMAN Foundation® creates positive, tangible change in IRONMAN race communities by engaging athletes and volunteers to participate in programs that demonstrate service through sport and commitment to community. Since 2003, over $50,000,000 has been provided through IRONMAN Foundation programs to more than 6,300 local, regional, national and global nonprofit initiatives. Through these partnerships, IRONMAN athletes are powerfully linked to the community and together we leave the IRONMAN legacy behind in our race communities long after event day. For more information on IRONMAN Foundation programs, including Team IMF, Community Fund, Your Journey Your Cause, and Women For Tri, visit www.ironmanfoundation.org.
About IRONMAN
A Wanda Sports Holdings company, IRONMAN operates a global portfolio of events that includes the IRONMAN® Triathlon Series, the IRONMAN® 70.3® Triathlon Series, 5150™ Triathlon Series, the Rock n' Roll Marathon Series®, Iron Girl®, IRONKIDS®, International Triathlon Union World Triathlon Series races, road cycling events including the UCI Velothon Majors Series, mountain bike races including the Absa Cape Epic®, premier marathons including the Standard Chartered Singapore Marathon and other multisport races. IRONMAN's events, together with all other Wanda Sports Holdings events, provide more than a million participants annually the benefits of endurance sports through the company's vast offerings. The iconic IRONMAN ® Series of events is the largest participation sports platform in the world. Since the inception of the IRONMAN® brand in 1978, athletes have proven that ANYTHING IS POSSIBLE® by crossing finish lines at the world's most challenging endurance races. Beginning as a single race, IRONMAN has grown to become a global sensation with more than 200 events across 50 countries. For more information, visit www.ironman.com.
About Wanda Sports Holdings
Wanda Sports Holdings is the world's leading sports business entity, founded to capture the opportunities in the global sports industry and to contribute to the prosperous international sports landscape – in three key areas: 1) Spectator Sports (media & marketing business), 2) Participation Sports (active lifestyle business), 3) Services (digital, production and service business). Wanda Sports Holding incorporates the international sports marketing company Infront Sports & Media, the iconic endurance brand IRONMAN, and Wanda Sports China. The headquarters are in Guangzhou, China.