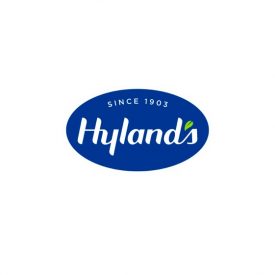 The Official Cramp Relief Sponsor Recruits a Unique Team of Health Professionals
LOS ANGELES – March 13, 2019 – It's no secret that despite its challenges, caring for others is one of the most rewarding and important career fields in our society. A century-old leader in products to support an active, healthy lifestyle, Hyland's has chosen to honor our nation's care providers for their unrelenting commitment to helping others. Hyland's will show its gratitude to this selfless group by bringing a team of health professionals, hand-selected from more than 500 applications, to one of the world's most coveted starting lines. On Marathon Monday, 18 generous Healers will join an expansive Team Hyland's in Hopkinton for the 123rd running of the Boston Marathon.
"Hyland's strives to celebrate and honor those who make a difference in our world. We support extraordinary people who dedicate their lives to selflessly serving others, especially those who are appreciated, but often under-acknowledged or underserved, forgotten or overlooked," says Hyland's Senior Brand Manager, Lisa Shapiro. "Every morning, these professionals are lacing up their sneakers to log a few miles before the sun rises and their day of service begins. They're balancing the needs of their patients, their families, and their communities all while training to prepare for the world's most iconic road race."
From an all-women's team in 2017 to a teachers' team in 2018, Hyland's supports community athletes so they can in turn help and inspire others. Each campaign team becomes an extension of Hyland's mission, representing the best of service and love, and united by a common passion for running.
The 2019 team is composed of some of the country's most inspiring and devoted healers. A sampling of the #HylandsPowered team roster includes: Alys DiMercurio – addiction survivor, volunteer EMT and PA student; Dr. Chris Wilhelm – global humanitarian and a physician for the US Air Force; Jim Gregory – a child of the US foster system who now gives back as a DHHS social worker; Lynn Sayarath – LCSW, youth coach and local Girls On The Run chapter-founder; Mary McDonald– advanced-age Ironman triathlete and Nurse Practitioner; Dr. Benita Stephens– an OB-GYN clinic owner and member of the National Black Marathoners Association; and ultrarunner and Pediatric ER nurse and social influencer, Jamie Richard.
To learn more about Hyland's athletes and the brand's role as the Official Cramp Relief Sponsor of the Boston Marathon, watch the team launch video here, and follow @hylandspowered on Facebook and Instagram, or visit hylands.com/Boston.
###
ABOUT HYLAND'S
Hyland's, Inc., a division of Standard Homeopathic Co., develops homeopathic medicines with the highest- quality natural ingredients, following the strictest standards of preparation*. With its commitment to excellence for over a century, Hyland's consistently provides quality and integrity in every product. From Hyland's Baby Nighttime Tiny Cold Syrup to Hyland's Calms Forté, Hyland's cares for families at every stage of life. Consumers can trust all Hyland's products to be natural, gentle, and safe for the entire family. For more information on products, visit www.hylands.com
*Claims based on traditional homeopathic practice, not accepted medical evidence. Not FDA evaluated.
ABOUT THE BOSTON ATHLETIC ASSOCIATION (B.A.A.)
Established in 1887, the Boston Athletic Association is a non-profit organization with a mission of promoting a healthy lifestyle through sports, especially running. The B.A.A.'s Boston Marathon is the world's oldest annual marathon, and the organization manages other local events and supports comprehensive charity, youth, and year-round running programs, including high performance athletes and running club. Since 1986, the principal sponsor of the Boston Marathon has been John Hancock. The Boston Marathon is part of the Abbott World Marathon Majors, along with international marathons in Tokyo, London, Berlin, Chicago, and New York City. More than 60,000 runners participate in B.A.A. events annually. The 123rd Boston Marathon will be held on Monday, April 15, 2019. For more information on the B.A.A., please visit www.baa.org