Handcyclists can now choose to ride an Adaptive Bike in Zwift
September 14, 2022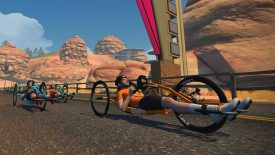 Zwift's first adaptive bike expands in-game representation for paracyclists as part of ongoing diversity, equity, inclusion, and belonging efforts
Long Beach, California, Sept. 14, 2022/ENDURANCE SPORTSWIRE/ – Zwift, the global online fitness platform for cyclists, is proud to announce the addition of a handcycle to their in-game bike options. The new handcycle is Zwift's first adaptive bike and is designed to be used by Zwifters who ride handcycles at home, so that they can represent their equipment more accurately. The new bike is now in all Zwifters' garages and available for use as of 11:16 am PDT on Sept., 14, 2022.
Adaptive cyclists are a diverse subset of the larger Zwift community, which includes all kinds of athletes – from paralympic hopefuls to casual cyclists. The new Zwift handcycle will give members of that community the ability to accurately represent their equipment in the game, and crank with their arms, as they do at home and on the road. You can read about some of the hand cyclists currently riding on Zwift here.
"Adding the handcycle to Zwift allows us to better-represent adaptive athletes in the game, an important way in which we are living our mission of building a platform for everyone," said Zwift CEO Eric Min. "Our team has worked hard, collaborating with experts in the adaptive sports space, including the Challenged Athletes Foundation, to create a bike that will look and perform as realistically as any other in the game. It's our hope that by launching this new bike, we will be able to show all Zwifters – whether or not they identify as adaptive athletes – that you don't have to ride a certain type of bike to belong in our community."
The Zwift handcycle was designed in consultation with the Challenged Athletes Foundation (CAF), which was founded in 1994 and strives to help people with physical challenges live healthy, active lives.
"We are proud to have the voices of the CAF adaptive cycling community heard to accurately design and add this new handcycle avatar to the game. The level of training and dedication to the sport of cycling should be shown at the same level for all athletes and we applaud Zwift for doing it right, said CAF Chief Strategic Partner Officer Nancy Reynolds."
Handcycles are distinguished from upright bikes by a three-wheeled design that puts the rider much closer to the ground. As the name implies, a handcycle is propelled by a cyclist cranking with their arms, instead of pedaling. Like other bikes in Zwift, the handcycle is designed to evoke its real-life inspiration, placing riders in a reclined position with their legs facing forward. The Zwift Handcycle bike is branded "Zwift," like some other in-game models, and Zwifters will be able to choose the color of theirs. It has unique aerodynamic characteristics, receiving some draft from upright bikes in the game, while not conferring a draft onto upright bikes. Handcycles can draft each other.
In celebration of the new bike, there will be a series of group rides led by the "Bernie" Pace Partner, who rides at 1.5w/kg, and will now ride a handcycle. We invite all Zwifters to join these rides to see the new bike in action. Zwift will also support existing handcycle clubs and plans to add specific workouts for handcyclist into the game in the future.
While Zwift is proud of this addition to the game, we recognize that not every adaptive athlete's bike is accurately represented by this first handcycle. The work of diversity, equity, inclusion, and belonging is never done, and Zwift is committed to continuing to add features and products that make it easier for any cyclist or runner to be accurately represented in Zwift, and to feel at home in our worlds.
– ENDS –
About Zwift
Zwift is the fitness company born from gaming. We're dedicated fitness enthusiasts, experienced video game developers, and disruptive thinkers. Play is in our DNA and we know fun fuels results.
Zwift utilizes massively multiplayer online gaming technology to create rich, 3D worlds ripe for exploration. Join thousands of cyclists and runners in immersive playgrounds like London, New York, and Paris as well as our very own Watopia.
Our app connects wirelessly to exercise equipment: bike trainers, treadmills, and more, so your real world effort powers your avatar in the game.
From friendly races to social rides and structured training programs, Zwift unites a diverse community in pursuit of a more fun, immersive and social fitness experience.
About Challenged Athletes Foundation
The Challenged Athletes Foundation® (CAF) is a world leader in helping people with physical challenges lead active, healthy lifestyles. CAF believes that participation in physical activity at any level increases self-esteem, encourages independence and enhances quality of life. Since 1994, more than $147 million has been raised and over 40,000 funding requests from people with physical challenges in all 50 states and over 70 countries have been satisfied. Additionally, CAF's outreach efforts impact another 60,000 individuals each year. Whether it's a $3,500 grant for a handcycle, helping underwrite a carbon fiber running foot not covered by insurance, or arranging enthusiastic encouragement from a mentor who has triumphed over a similar challenge, CAF's mission is clear: give opportunities and support to those with the desire to live active, athletic lifestyles. To learn more, visit challengedathletes.org.