GFNY heads to Island of the Gods for Inaugural GFNY Bali
January 31, 2018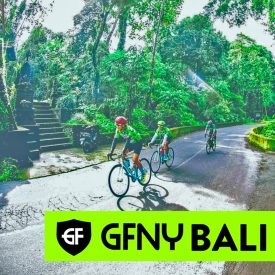 The 2018 GFNY Global Marathon Cycling Series starts this Sunday, February 4th in Bali, Indonesia
NEW YORK CITY, January 31, 2018 – GFNY heads to the island of Bali this Sunday February 4th. The beachside resort town of Sanur will host the inaugural event, the second GFNY in Indonesia.
The 2018 GFNY Global Marathon Cycling Series starts in Indonesia, Bali. A field of 1500 riders from over 20 nations will take on the inaugural route starting out from the idyllic resort town of Sanur on the southeast side of the Island. It is the chance for riders to experience the ultimate tropical challenge at one of the most famous tourist destinations in the world.
The competitive long route covers 142km and 2100m of climbing, including a 1350m ascent to the crater rim of the Batur Volcano. The non-competitive medium route is 82km and 950m of climbing. Once riders reach the top of the volcano they will be greeted with sweeping views of the 13km-long Batur Lake and then enjoy a 40km descent to the bottom and the finish line
The long route serves as a 2017-2018 qualifying race for the racer corral at the 2018 Campagnolo GFNY World Championship in NYC.
"Bali is a beautiful place to explore on two wheels and we are very proud the 2018 GFNY season is starting in a new and exciting destination. This will be second Indonesian race on the calendar which goes to show how far the sport has grown in Southeast Asia," said Lidia Fluhme, President and co-founder of GFNY.
"GFNY Bali is ready to welcome riders from around the world and provide an authentic Indonesian cycling experience along rice paddies, tropical jungle, temples and dozens of small villages with cheering spectators," said Axel Moeller, Organizer of GFNY Bali.
About GFNY
GFNY is the global cycling marathon brand with events held in NYC, Argentina, Bali-Indonesia, Brazil, Chile, Colombia, Costa Rica, Germany, Samosir-Indonesia, Italy, Jerusalem-Israel, Malaysia, Cozumel-Mexico, Monterrey-Mexico, Panama, Poland and Uruguay.
Riders get to BE A PRO FOR A DAY by competing against others, themselves and the clock in a personal endurance challenge.
At all GFNY events, riders have the chance to qualify for the elite racer corral at the GFNY World Championship in NYC by placing in the top 10% (20% at regional championships) of their age group.
Campagnolo GFNY World Championship NYC
The 8th annual Campagnolo GFNY World Championship New York will be held on May 20, 2018. The race features the world's most international peloton with riders from over 90 countries. Athletes take on a challenging 100-mile route from NYC to Bear Mountain to Fort Lee to compete against each other, the clock and themselves in a personal endurance challenge.
The official GFNY website is: www.gfny.com.
GFNY World 2018 calendar
4 February GFNY BALI
25 February GFNY LATIN AMERICA CHAMPIONSHIP MONTERREY
18 March GFNY COLOMBIA
18 March GFNY URUGUAY
22 April GFNY COSTA RICA
27 April GFNY MIDDLE EAST-AFRICA CHAMPIONSHIP JERUSALEM 
20 May GFNY WORLD CHAMPIONSHIP NYC
27 May GFNY POLSKA-GDYNIA
5 August GFNY BRASIL
2 September GFNY EUROPE CHAMPIONSHIP DEUTSCHLAND 
2 September GFNY ASIA CHAMPIONSHIP INDONESIA-SAMOSIR
9 September GFNY PORTUGAL
21 October GFNY PANAMA
11 November GFNY COZUMEL-MEXICO 
25 November GFNY CHILE
Further Material for Media Use
GFNY World calendar graphic: here
Previous GFNY press releases: here
GFNY photo archive (credit SPORTOGRAF): here
Media Contact
Gran Fondo New York Inc.
Uli Fluhme
Phone: +1.212.933.4033
Email address:  uli@gfny.com