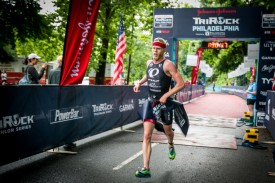 Cam Dye wins fourth consecutive TriRock Philadelphia; Alicia Kaye is the champion for second year; 750 Team Johnson & Johnson participants and other supporters raised over $568,000 for CHOP
Philadelphia, PA – June 28, 2015 – Despite wet conditions, more than 3,000 participants biked, ran and rocked around Fairmount Park this weekend at the 11th annual Johnson & Johnson TriRock Philadelphia Triathlon presented by Philadelphia Insurance Companies (PHLY). Due to the weather, the event featured a modified duathlon course during the Sprint distance race on Saturday and Olympic distance on Sunday.
World-class professional triathletes headlined the Olympic race including Cameron Dye who claimed his fourth-straight Philadelphia victory, and Alicia Kaye who once again showed her strength at the distance by winning for the second year in a row.
Professional triathletes took off for the bike course in a time-trial start. They were released from inside transition with 20-seconds between each other. Age-group athletes followed the same format with a few seconds in between participants.
Dye went out of the gate fast, finishing the bike course approximately 2 minutes faster than his opponents. Second place winner Jason West, 22-years-old, dominated the 6.2-mile run in 31:43, after finishing the bike in 58:45. Davide Giardini rounded out the top three, posting a 57:21 bike split on his way to the podium finish in 1:32:33. Boulder-residents swept the podium.
"It was different, but great. You go out hard on the bike because you feel really good without your legs being tired from the water, and I feel like I rode well," said Dye. "It's a high note for my career. To win once is awesome, to repeat is super tough, so to win this race four times in a row is one of my bigger accomplishments."
Sarah Haskins, from Clermont, FL, opened the women's race with a dominant bike performance that ultimately landed her in second place with a time of 1:42:25. Canadian Alicia Kaye, also residing in Clermont, made up time lost on the bike during a fast run in 35:29, giving her the 1:40:47 victory. Dani Fischer, Indianapolis, IN, finished third in 1:43:46.
"It was better than expected. Finally the sun is shining and the rain is gone," said Kaye. "My biggest competition, Sarah Haskins, started a few minutes behind me which was challenging. My mental strategy was to not think about it and just race hard. Someone told me I was even with Haskins when I finished lap one of the run, so I thought anything you've got, just lay it on the line. I went after it, and came away with the win."
Kaye mentioned she has a lot of respect for her friend Haskins, but has never beaten her in a race before, so this was a big personal accomplishment for her today. Kaye was surrounded by a large group of supporters including her homestay family, in-laws and sister, who works for presenting sponsor Philadelphia Insurance Companies.
The pros weren't the only ones on the field, Johnson & Johnson CEO Alex Gorsky also raced in the Sprint event on Saturday. More than 750 Team Johnson & Johnson participants raised $508,000 for the Children's Hospital of Philadelphia (CHOP), and with additional supporters the event raised a grand total of $568,000 over the weekend.
The 11th annual event featured three days of activities including a Multi Sport Expo beginning on Friday, June 26 and a Sprint distance on Saturday, June 27, culminating with an Olympic distance event on Sunday, June 28. Fairmount Park hosted the scenic and challenging race with a fun, family-friendly atmosphere, and a finish line concert on both days of the event.
For more information about the TriRock Triathlon Series visit TriRockSeries.com.
2015 Johnson & Johnson TriRock Philadelphia Triathlon – Olympic Pro Race
Place, Name, Age, Hometown, Time, Prize 
Men
Cameron Dye, 31 Boulder, CO, 1:30:45 – $6,000
Jason West, 22 Boulder, CO, 1:31:11 – $3,500
Davide Giardini, 28 Boulder, CO, 1:32:33 – $1,500
Alex Willis, 27 Albuquerque, NM, 1:33:44 – $1,000
Michael Poole, 24 Tampa, FL, 1:35:19 – $500
Women
Alicia Kaye, 32, Clermont, FL, 1:40:47 – $6,000
Sarah Haskins-Kortuem, 34, Clermont, FL, 1:42:25 – $3,500
Dani Fischer, 27, Indianapolis, IN, 1:43:46 – $1,500
Ellie Salthouse, 22, Carindale, QD, 1:43:50 – $1,000
Robin Pomeroy, 30, Folsom, CA, 1:45:26 – $500
About the TriRock Triathlon Series
The TriRock Triathlon Series is organized by Competitor Group, the creators of the Rock 'n' Roll Marathon Series. The TriRock Series started in 2010 in San Diego, the birthplace of triathlon. The TriRock Series takes place in five cities across the U.S. in 2015.  Events feature Olympic and Sprint distances with entertainment positioned along the race route. Each event also features a finish line festival with a beer garden, free breakfast, red carpet finish and a post-race concert.
The TriRock Series is part of Competitor Group's larger triathlon platform which includes the world's #1 triathlon website and magazine—Triathlete, and The Nation's Triathlon to Benefit the Leukemia & Lymphoma Society, one of the most prestigious triathlons in the United States. For more information, please visit TriRockSeries.com or follow @TriRockSeries on Twitter.