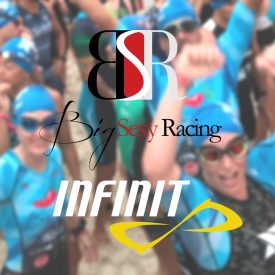 Elite race team turns to the leader in custom nutrition to simplify their fueling, hydration, and recovery
Cincinnati, Ohio, September 28, 2018 – INFINIT Nutrition is excited to announce a new partnership with the Big Sexy Racing Team. The companies have teamed up to help simplify and improve BSR athletes' training and race nutrition for the remainder of the 2018 and into 2019 season.
Headquartered in Boulder, CO, the Big Sexy Racing team consists of 200 members nationwide, six coaches, and two pro triathletes. BSR offers coaching packages which they call "​RX3", because their coaches specialize in creating individual training "prescriptions" tailored for each individual athlete. They base their plans on the simple formula: improvement takes commitment, hard work, consistency and patience.
Big Sexy Racing founder, coach and pro triathlete, Chris McDonald, aka "Big Sexy," has competed in 54 IRONMAN races and is a 7x IRONMAN Champion. "Teaming up with Infinit was a no brainer. A lot of our athletes were already using INFINIT as their sole fueling source, especially those who have struggled with other nutrition products in the past," said McDonald. "We love that their products are natural and customizable, so each athlete can find the right nutrition mix that works for them."
"I am thrilled to be back with INFINIT Nutrition," said Dede Griesbauer, a professional triathlete and Big Sexy Racing Team member. "INFINIT literally transformed my Ironman racing career. Who knew race day nutrition could be so simple and taste so good in all conditions?"
Big Sexy Racing Team will be encouraging their athletes, who haven't yet made the switch to Custom, to take the 5 Hour Challenge by scrapping all their gels, bars, and salt pills, and simplifying their nutrition into an all-in-one, isotonic formula. Each athlete will get an opportunity to work one-on-one with an INFINIT Formulation Specialist to design and dial in their nutrition strategy for training, racing, and recovery. BSR will start accepting applications for their 2019 racing team on October 1st, 2019.
About INFINIT Nutrition
INFINIT Performance Nutrition is a premium, customizable nutrition-solution that naturally maximizes the performance of athletes all over the world. Developed with patented Osmo-FIT™ technology, INFINIT Formulas are designed to be isotonic and easy to digest, even in the most grueling conditions. The customizable formula system allows each athlete to create the perfect mix that tastes and works exactly how they want. Since its start in 2004, INFINIT has grown to be one of the most respected names in the sports nutrition industry, fueling top athletes from all endurance disciplines. For more information on INFINIT Nutrition, visit INFINITNutrition.com or on social media @theinfinitloop.

About Big Sexy Racing
Chris McDonald is a pro triathlete and Australian native currently residing in Boulder, Colorado. He began his professional career in 2004 and has had the honor of earning 7 Ironman titles. In 2013, McDonald and his wife, Erika, launched Team BSR, an elite amateur triathlon team comprised of athletes across the United States and worldwide. In 2018, Big Sexy Racing took 1st place at the IRONMAN 70.3 Tri Club Championship race in Haines City, FL as well as the 1st place club at Ironman Boulder and 2nd place club at Ironman Madison, Buffalo Lake, and Chattanooga. Team BSR has a current team consisting of 200 members across the United States. For more information on the Big Sexy Racing Team visit bigsexyracing.net.