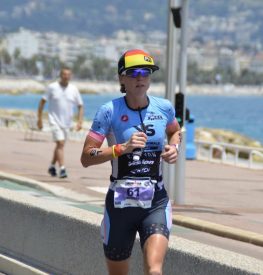 Converted for Life - Lester Again Chooses the Competitive Advantage in XRCEL for Her Must Have Fuel
(Charleston, SC)–  New World Consumer Products announces its continued sponsorship of Professional Triathlete Carrie Lester as an XRCEL Athlete Fuel Brand Ambassador. Carrie joined the XRCEL team right before the 2016 IronMan World Championship race on Kona, and after her coach, Scott Difilippis of KIS Coaching, introduced XRCEL to her. Since then XRCEL has been her fuel of choice and a major factor in her success. Carrie had an outstanding 2018 season including an epic win at Embrunman, despite a bike damaging crash on the course.
"I am thrilled to continue to be a proud ambassador for XRCEL. I began using XRCEL 4 years ago, and it has more than proven to me and our team of KIS athletes that it is the best sources of energy in the endurance sports world," said Lester. "In the early years of my triathlon career I often struggled with stomach (GI) issues, or not being able to "stomach" many of the sports gels and drinks. I found XRCEL and have not looked back. I'm converted!"
"We're excited to sponsor Carrie Lester for the fourth year in a row.  She is one of the top competitors in the world of triathlon with nine Iron distance wins and two top 10 finishes at the IRONMAN World championships," said Laura DeMeo, Business Development Manager – Endurance Sports for Team XRCEL. "Carrie is a smart, seasoned, and experienced athlete who has unparalleled mental fortitude and physical strength. Despite a bike crash during her race, Carrie still managed to win the toughest Iron distance triathlon in the world, the Embrunman Triathlon in France. We are pleased that XRCEL has played a major role in her successes and are excited to see what Carrie will do in 2019!"
About XRCEL® Athlete Fuel
XRCEL Athlete Fuel is a revolutionary extended release carbohydrate supplement formulated with patented pH and temperature responsive micro-gel technology developed by New World Pharmaceuticals, LLC.  XRCEL is a caffeine and banned substance free supplement designed to provide athletes with extended release muscle and brain fuel so that they may get the most out of their training and competitions. 
New World Pharmaceuticals is based in Charleston, South Carolina. For more information, please visit http://www.NewWorldPharma.com.
For More Information 
Media Inquiries:
Lisa Sexton
843.737.6192 Ext 104
Lisa@XRCEL.com