3M Half Marathon Continues Partnership with Nuun
November 21, 2022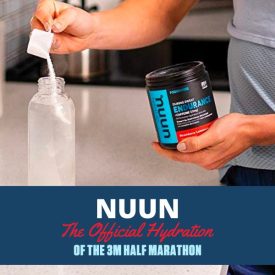 Since 2017, Nuun has hydrated thousands of 3M Half Marathoners
AUSTIN, Texas /ENDURANCE SPORTSWIRE/ – High Five Events, one of the largest privately owned event production companies in the United States, welcomes back Nuun as the Official Hydration of the 3M Half Marathon. The agreement means Nuun will hydrate runners chasing their half marathon Personal Records (PR) through 2023. The 29th annual 3M Half Marathon takes place on January 22, 2023.
"The Nuun team is thrilled to be back on the streets of Austin hydrating one of the most fun and fastest half marathons in the country," said Mike Sommers, Community Marketing Director. "Together with High Five Events we are realizing our mission of inspiring more movement, and we look forward to being a small part of an incredible runner experience at the 3M Half Marathon."
Nuun Endurance will be available at all aid stations and the start and finish lines. Nuun Endurance is designed with efficient carbohydrates and optimized electrolytes to keep you moving during high intensity and/or prolonged endurance exercise. It contains a precise mix of efficient carbs and optimized electrolytes to help deliver fluids as well as minimize gastric distress during endurance exercise. In addition, Nuun and the 3M Half Marathon will increase community engagement and product awareness by offering free samples and product discounts, sampling Nuun at running stores, and supporting various demo runs around Austin.
"Nuun continues to hydrate thousands of PRs at 3M Half Marathon and we're glad they'll fuel thousands more," said Jack Murray, co-owner of High Five Events. "We will continue to expand our community engagement opportunities, and educate athletes on the benefits of an effective hydration plan with Nuun."
The 3M Half Marathon boasts one of the fastest 13.1-mile courses in the country. Runners enjoy a point-to-point course with mostly downhill running that showcases some of Austin's finest locations. Starting in north Austin and finishing near the Texas State Capitol, runners will appreciate a 306' net elevation drop. Participants can register on the website.
About High Five Events: Beginning with the launch of a single triathlon in 2003, High Five Events has grown to become one of the largest privately owned event production companies in the United States. High Five Events is a community-centric company based in Austin, Texas. Their staff has more than 100 years' combined experience organizing large events across different venue types in a variety of locations. The company has landed on Inc. 500 fastest growing companies in both 2019 and 2020.
About Nuun & Company: Nuun is a hydration company with a mission to empower more movement. Nuun electrolyte tablets and powders provide functional hydration products optimized for exercise, daily health, travel, immune support, energy and rest. Clean and Non-GMO Project verified ingredients, a refreshing taste and low sugar make Nuun a favorite amongst active lifestyle consumers. Nuun products, like their tablets in their distinctive, colorful tubes, are convenient to carry and add to water, and are better for the environment than traditional bottled sports drinks. Consumers adding Nuun tablets to their reusable water bottles helped save the shipping of over 100 million pounds of water in 2018 alone. 16-year-old Nuun is the #1 selling sports drink supplement brand in running, cycling, outdoor and natural foods stores. The Seattle based company's culture and mission have been recognized by Outside Magazine, who named Nuun to its 2017, 2018, 2019 and 2020 'Best Places to Work' lists.