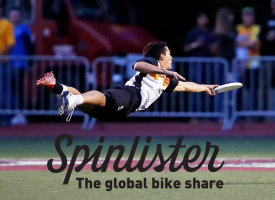 It's happening. Spinlister, the global leader in peer-to-peer bike, surf, SUP, snowboard and ski sharing, is proud to be teaming up with the American Ultimate Disc League throughout their 2016 season. As an official partner, Spinlister will help to deliver the best of the AUDL to fans across the globe, presenting the league's Top 10 plays of the week as well as providing halftime activation for 17 matches to be broadcast on ESPN3.
"The Spinlister platform is committed to connecting athletes and adventurers all over the world," says CMO Andrew Batey. "Naturally we're thrilled to be able to branch out and engage with the AUDL and its audience. It's an exciting league with incredible fans, so a partnership between our two organizations is a perfect fit."
For anyone not in the know, the AUDL is the world's first and largest ultimate frisbee league. Together with its 26 franchises spread throughout the United States and Canada, the AUDL prides itself on showcasing this exhilarating sport played at the highest level of sportsmanship and competition. Matches and events are fun, family friendly, and continue to grow in both size and scope.
"The AUDL is very excited to partner with Spinlister and share the platform with our audience," AUDL Commissioner Steve Gordon said. "We believe in and reflect the values that Spinlister stands for, and think there's great alignment with our active and health conscious community."
To find out more about the AUDL, as well as information on where to catch all of this season's games, visit http://theaudl.com/. And as always, visit Spinlister.com for all of your outdoor action sports rental needs.