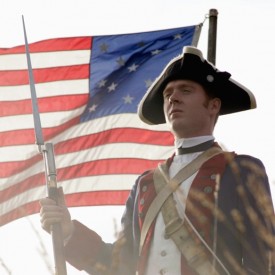 27 MAY 2015–Against the historic backdrop of Colonial Williamsburg, the nation's largest living history museum paying homage to 18th century America, a field of top professional triathletes will vie for a 15k Euro prize purse and bragging rights to the title of Challenge Williamsburg Champion. The race, which takes place on June 14th, welcomes return champion Eric Limkemann (USA) and Wiliamsburg first-timer and world-renowned triathlon champion Meredith Kessler (USA), headlining the men's and women's professional fields.
Limkemann, who makes his home in nearby Richmond, Virginia with his wife and one-year-old daughter, has high hopes for a repeat win at the venue where he was victorious in 2013, when the race was contested as Rev3 Williamsburg.  "The Williamsburg race is a special one for me," said Limkemann.  "Winning in front of a home crowd and crossing the line with my wife two years ago is one of my fondest racing memories.  I am looking forward to coming back and creating a few more memories this year!"
Limkemann has a slight uphill battle to reach the start line, however; he was cycling in second place at the recent Challenge Knoxville race when rainy roads caused his rear wheel to slip, sending him crashing into a mailbox.  Despite ending his Knoxville race day in the hospital, where he received a dozen stitches in his shin, Limkemann remains optimistic that he'll heal and receive a replacement bike (his was destroyed in the crash) in time to toe the line in Williamsburg.
Joining Limkemann in the men's field is Kevin Collington (USA), a former collegiate national champion (2007) who went on to race on the ITU circuit before shifting his focus to longer non-draft-legal events.  Collington scored the win at 2014's Challenge Rancho Cordova and is a clear contender for the title in Williamsburg.  Chris Lieferman (USA), fresh off a second place finish at Challenge Knoxville–highlighted by a commanding 1:18:10 run on the notoriously tough and hilly course–will also figure as a threat for the victory.
Another notable athlete in the men's field is Justin Park (USA), a former corporate attorney specializing in Mergers & Acquisitions turned professional triathlete.  Always an athletic youth, Park's competitive aspirations were cut short in college when he was diagnosed with a life-threatening heart condition known as Long QT Syndrome.  However, with advances in science and the support and close monitoring of his physicians, Park has since returned to sport and discovered a pure passion for triathlon.  As a result of his heart condition, Park is also dedicated in his support of the SADS Foundation, a charitable organization promoting awareness of and advocating for individuals with Sudden Arrhythmia Death Syndromes.
In the women's field, multiple triathlon champion, fan favorite and USA Triathlon's 2014 Non-Drafting Athlete of the Year Meredith Kessler will surely push the pace from the starting gun in hopes of securing her first Challenge Williamsburg win.  "Being based on the west coast, the opportunities for me to race in the east are somewhat limited, so I jumped at the opportunity to enter Challenge Williamsburg! What a better way to get to be a part of such a special race organization who cares about each and every athlete and have the chance to race in such a historic town!" said Kessler.  "What is ideal, too, is the inevitable heat which will be a helpful mid-season test to gain some quality heat experience, which I certainly need since I much prefer cooler weather races.  The course is flat and fast and organized by some of the best in the business that I respect and value very much.  Once again, a superb chance to push and test the body to go faster.  I am very much looking forward to seeing and cheering you all on the course!"
Upping the ante in the women's race, the Wassner twins (USA), Rebeccah and Laurel, hope to follow their respective fourth and sixth place finishes at Challenge Knoxville with another podium appearance, aiming for the top two tiers in this historic U.S. venue.  Also looking for redemption following Challenge Knoxville is Alyssa Godesky (USA) who suffered significant road rash in a rain-induced crash, yet battled on to finish.  "I was worried my coach [Ultraman World Champion Hillary Biscay] would still make me do a run session if I dropped out!" said Godesky.
Challenge Family Americas ambassador Dr. Andy Baldwin, who graduated from the prestigious  Johns Hopkins University with a Masters in Public Health just two days after making his Challenge Family racing debut at Challenge Knoxville, will once again join the Challenge Family fun at Challenge Williamsburg, joined by a number of his Team Every Man Jack triathlon teammates.
Triathlon fans are invited to follow the Challenge Williamsburg race day action on Twitter @Challenge Amer and via www.challenge-williamsburg.com/live.
Professional Men
Dan Feeney (USA)
Mike Hermanson (USA)
Eric Limkemann (USA)
Nick Brodnicki (USA)
Adam Otstot (USA)
Chris Lutz (USA)
Matt Chrabot (USA)
Justin Park (USA)
Ryan Bates (USA)
Daniel Harris (USA)
Greg Close (USA)
Blake Becker (USA)
Chris Leiferman (USA)
Jake Rhyner (USA)
Kevin Collington (USA)
Aubrey Aldy (USA)
Alberto Alessandroni (ITA)
David Giardini (USA)
Jake Montgomery (USA)
Tom Wood (USA)
Professional Women
Meredith Kessler (USA)
Rebeccah Wassner (USA)
Laurel Wassner (USA)
Alyssa Godesky (USA)
Liz Baugher (USA)
April Lea Gellatly (USA)
Darbi Roberts (USA)
Katie Thomas (USA)
Suzy Serpico (USA)
Maria Lopez (USA)
Anna Cleaver (NZL)
Jenny Leiser (USA)
– ends –
ABOUT CHALLENGE FAMILY
The Challenge Family series of triathlons features 44 full and half distance races around the world, including the world's largest long distance triathlon – Challenge Roth in Germany.  The birthplace of the Challenge Family, Challenge Roth now features over 5,500 athletes and 220,000 spectators and is home to both world records held by Andreas Raelert (GER) and Chrissie Wellington (GBR).  Since 2002, races throughout Europe, UK, Australasia, Asia, North America and South America have joined Roth.  Together they provide athletes with a new experience of long distance racing with a strong focus on athlete and spectator experience, giving back to the community while respecting the legacy of sport and being committed to its continued growth.  For further information on Challenge Family visit www.challenge-family.com.