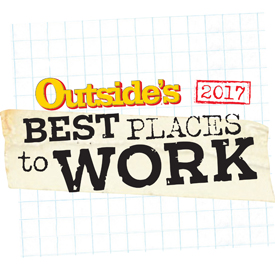 Healthy Hydration Leader Ranks #46 on the Coveted List of Top Employers
November 8, 2017 – Seattle, Washington – Nuun has been selected as one of OUTSIDE'S Best Places to Work 2017. Making the list for the first time Nuun ranks in the top 50 at #46 out of 100 companies recognized. Not only are winning companies great workplaces for employees, but they respect the environment and encourage a balance between work and enjoying life in the great outdoors.  Nuun makes a healthy sports drink that has an optimal blend of electrolytes, only one gram of sugar, and clean ingredients.  It comes in a tablet form that is added to water to prevent shipping millions of gallons of water and filling landfills with single use disposable bottles.
"Nuun is honored to be recognized by OUTSIDE as one of the best places to work. This recognition is a direct reflection of the incredible team of positive change agents at Nuun," said Kevin Rutherford Nuun President and CEO.  "We believe that culture is the heart and soul of any team and that every single teammate is responsible to consistently enhance it. Our energy-giving culture is the mojo that makes being part of this tribe a very special place to work and play."
"Companies from across the country entered a rigorous two-part survey process to make the winning list," said Jonah Ogles, Articles Editor at OUTSIDE Magazine. "The Best Companies Group evaluates each nominated company's workplace policies, practices, philosophy, systems and demographics. There's also an employee survey to measure personal experience."
The winning companies are those that value productivity in combination with an active, eco-conscious lifestyle, for a fulfilling experience inside and outside of the office. This is OUTSIDE'S tenth year providing the Best Places to Work.
The Nuun culture centers around Nuun's mission, hydration that inspires more movement.  Employees are focused on bringing Nuun's message and product to a rapidly growing number of active consumers, and are equally passionate about leading the 'nuun life' that celebrates all types of movement, especially outdoors.
From full employee ownership in the company, to bike commuting together to work to volunteering to clean up local waterways the Nuun team is remarkably unique and their positivity and impact is magnetic to those that interact with the brand.
The complete list of OUTSIDE'S Best Places to Work 2017 is available at OutsideOnline.com. For a list of past winners and for more information on the selection process, visit Bestplacestoworkoutside.com.
About Nuun & Company
Nuun, based in Seattle, WA, is on a mission to inspire a healthier, happier, more active lifestyle so that everyone can achieve life's next personal best.  As the pioneer of electrolyte enhanced drink tablets, Nuun is passionate about and committed to replenishing active people and our planet by using clean ingredients and practices in the great tasting and industry leading sports drink.  Founded in 2004, Nuun was the first to separate electrolyte replacement from carbohydrates, and thirteen years later Nuun Electrolytes remains the #1 selling sport drink product in bike, run, outdoor specialty, and outdoor chain stores.  Nuun's culture and mission have been recognized by Outside Magazine, who named Nuun as #46 in its 2017 'Best Places to Work' list.  To learn more, visit nuunlife.com or follow them on social media.
About OUTSIDE:
OUTSIDE is America's leading active lifestyle brand. Since 1977, OUTSIDE has covered travel, sports, adventure, health, and fitness, as well as the personalities, the environment, and the style and culture of the world Outside. The OUTSIDE family includes OUTSIDE magazine, the only magazine to win three consecutive National Magazine Awards for General Excellence, The Outside Buyer's Guides, Outside Online, the Outside Podcast, Outside Television, Outside Events, Outside+ for the iPad, Outside tablet edition, Outside Books, and Outside GO, a revolutionary, 21st-century adventure-travel company. Connect with OUTSIDE online, on Facebook, Twitter, Instagram and Pinterest.
About The Best Companies Group:
Best Companies Group works with national and local partners around the country and internationally to establish and manage "Best Places to Work," "Best Companies," and "Best Employers" programs on a national, statewide, regional and industry basis. Through its thorough workplace assessment, utilizing employer questionnaires and employee-satisfaction surveys, BCG identifies and recognizes companies who have been successful in creating and maintaining workplace excellence.
###