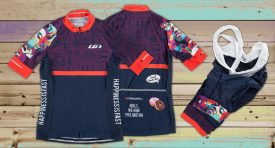 Saint-Augustin-de-Desmaures, Quebec – November 8, 2017 – Garneau is excited to unveil the first of eight custom designs for each individual member of the women's Clif Pro Mountain Bike Team.  This is culmination of a process in which Garneau meets with each member of the Clif Pro Team to create a unique custom kit that connects with her individual personality. Garneau will reveal at least one design per month until the Sea Otter Classic in April 2018. The cycling kit of team member Lea Davison, 2-time Olympian and 2016 World Championship silver medalist, is the first to launch.
Garneau wants to demonstrate how much fun the custom experience is for cyclists. Lea Davison chose to put bikes, skis, maple cremees, donuts, snowflakes, and surfboards on her jersey. "This is such an exciting project on which to collaborate with the Clif Pro Team.  Not only does it bring to life the personality of each rider, it also showcases the capabilities of our custom cycling kit program. Garneau has no minimums and can work with any cyclist to bring a kit to life," said Mike Britten, Garneau's director of Canadian sales & custom.
Each rider will also hide a secret printed "gem" or icon in the back pocket of her jersey. These hidden elements will be revealed at the Sea Otter Classic in April as part of an interactive program to help fans engage with the personality-filled riders of the Clif Bar Women's MTB team.
"In 25 years of team management I can say without hesitation that Garneau has been the most dialed-in, professional and fun (!) clothing company I have ever had the pleasure to work with. The service and products are simply the best, but it's the people, personality, and projects like this that really set them apart. They get it and, after all these years, I feel like the CLIF Pro Team/LUNA Chix are finally 'home' with a cycling clothing company," said Clif Pro Team General Manager Dave McLaughlin.
The consumer can be part of this fun experience by pre-ordering Lea's kit:
https://www.lgpickpayride.com/LeaDavison_180044PPR
Orders must be submitted by November 19, 2017 and delivery of the kit will be made in time for Christmas.
ABOUT GARNEAU®
Garneau®, a global company with its head office located in Saint-Augustin-de-Desmaures, Quebec, is an international leader in the design and manufacture of sports clothing and accessories. The company has over 400 employees and is ever-growing. Thanks to the sponsoring of high-profile international athletes and teams, and to the sale of its products in over 40 countries, the company is in constant progress and relentlessly centers its efforts on development and innovation. More than ever, athletes all around the world stand out and perform in outstanding fashion thanks to the Garneau brand.  For more information, please visit www.garneau.com.
– 30 –
For more information: 
Emilie Goulet
Communications Coordinator
Garneau®
Tel.: 418-878-4889 #350
egoulet@louisgarneau.com