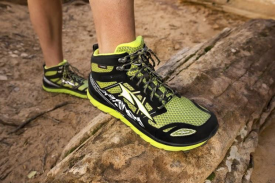 (Salt Lake City, August 5, 2016)– Altra Footwear won five awards at the 2017 Outdoor Retailer Summer Market: Polartec's 2016 "APEX Award", Runner's World "Picks" award, BackpackGearTest.org's "Creative Award",  Outdoor Retailer's " '16 Media Preview Winner" award, and SGB, Sporting Goods Business' "40 Under 40 Award". These awards highlight Altra's Spring collection of footwear and apparel featured at the 2017 Outdoor Retailer Summer Market at booth #36179.
Altra's first ever hiking boot, the Lone Peak 3.0 NeoShell MID, won Polartec's 2016 "APEX Award". Altra is the first to use Polartec's NeoShell fabric on a shoe, creating a "better than waterproof" boot with Neoshell on the exterior. This eliminates the need for a traditional booty construction of a waterproof shoe. The Altra Lone Peak 3.0 NeoShell MID is available now for $160.
Runner's World gave Altra its "Outdoor Retailer Picks" award for the new Trail Short and Performance Skort. These items feature Altra's proprietary ZeroLiteTM fabric and a built-in running belt with multiple pockets for storing essentials. The $60 Trail Short and $80 Performance Skort will be available February 2017.
BackpackGearTest.org gave its "Creative Award" to Altra's revolutionary StashJackTM. The open-back jacket is stashed in a pouch belted around your waist and easily slides on over your pack. The StashJack solves the jacket vs. backpack struggle and is available for $130.
Media attending Outdoor Retailer voted Altra the " '16 Media Preview Winner" for its display of Spring collection highlights including the new dual-nature Altra EGOTM midsole featured in the Escalante and KingMT.
Altra founders Brian Beckstead, Golden Harper and Jeremy Howlett were awarded SGB's 2016 "40 Under 40 Award" for their "leadership, innovation, entrepreneurship and passion." While working in a running store, Beckstead, Harper and Howlett saw the pain caused by traditional running shoes. Their passion to create a shoe that made running enjoyable inspired Altra's FootShapeTM toe box and cushioned ZeroDropTM platform. Within only five years, Altra has grown from one to 21 shoe styles, won multiple Editor's Choice awards and gained distribution in 49 countries.
Join the conversation @AltraRunning and #ZeroLimits on Twitter, Instagram and Facebook.
PR Contact: Colleen Logan, VP Marketing, clogan@iconfitness.com