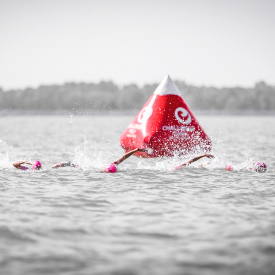 Zootsports will be the Official Swim Course Sponsor for THECHAMPIONSHIP both this year and 2020.
"We are really happy to announce our partnership with THECHAMPIONSHIP. First class athletes have to be supported by first-class wetsuits. And this is exactly what we have to offer with our premium wetsuit the Wikiwiki (Hawaiian for "speedy fast")," says ZOOT's EU Marketing Manager Manuel Sinner. Founded in Kona, Hawaii in 1983, ZOOT continues its journey to be at the heart of the triathlon community and is committed to providing athletes with the best possible sport gear.
Zibi Szlufcik, CEO of CHALLENGEFAMILY, is also very excited to work closely together with ZOOT, "At CHALLENGEFAMILY, we are all about the athlete. We have a sense for real quality and the athletes experience. To deliver excellence, we need partners who share the same aspirations and values. With THECHAMPIONSHIP, we have created an innovation to the sport of triathlon and working together with an innovative brand like ZOOT is a natural match. We are excited about this partnership and are looking forward to deliver excellent services and products to our athletes."
All athletes at THECHAMPIONSHIP will be equipped with a high-quality swim cap from the ZOOT collection. From Thursday May 30 until Sunday June 2, the ZOOT team will be at the triathlon expo to present product highlights of the current season. Athletes will have the possibilty to test all the different ZOOT wetsuit models throughout the weekend.
Website THECHAMPIONSHIP: www.thechampionship.de
Website ZOOT: www.zootsports.de
About Challenge Family 
CHALLENGEFAMILY is the fastest growing global triathlon series. With 34 full and middle distances in 23 different countries, CHALLENGEFAMILY is changing the face of triathlon around the world. Due to spectacular courses in iconic destinations, no CHALLENGEFAMILY race is like another. Focusing on delivering the race of a lifetime to athletes of all ages and abilities, CHALLENGEFAMILY races provide memorable experiences that capture all the excitement and emotions of this inspirational sport.
For all press enquiries, please contact Jakob Kube at CHALLENGEFAMILY: jakob@challenge-family.com