Oiselle Launches "Year of the Underbird" in Support of Unsponsored OTQ Athletes
August 3, 2023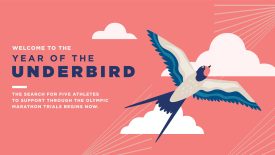 Program aims to elevate more women on race day and beyond through holistic contracts
Seattle, Wash. (August 3, 2023) /ENDURANCE SPORTSWIRE/ – Oiselle, an innovator and thought leader in the women's running space announces their new sponsorship program, "Year of the Underbird". This initiative will support 5 unsponsored female marathon runners as they prepare for the Olympic Trials in Orlando in 2024. Sponsorship includes a stipend, gear, amplifying each athlete's unique story and athletic journey, and community support through Oiselle's Volée, and a potential bonus should the athlete make the US Olympic team. These athletes will embody the core values that Oiselle upholds: to improve the sport and build the sisterhood.
"Each Olympic cycle, there are amazing women who get overlooked by traditional sponsorship models. We want to welcome more opportunity and empowerment into the sport and celebrate the women who have persisted," says Justine Fédronic, Oiselle's Community and Athlete Partnership Manager. "Our goal is to find 5 women to join our sisterhood, who showcase the resilience and bold determination to perform at the highest level but may not have benefitted from brand support before. We will not only celebrate these women as athletes, but as the incredible individuals they are outside of the sport. We believe athletes are storytellers, and we look forward to working with these women to share the nuances of their unconventional journeys to the starting line."
The application window opens August 3rd and will close on August 20th. The team of athletes will be announced in early September. Benefits on the contracts include housing and transportation costs associated with the Olympic Trials, a $2,000 health and training stipend, an athlete essentials kit of Oiselle gear plus another $1,000 gear stipend, pregnancy protections, and the potential for a $50,000 bonus if the athlete makes the team.
The Oiselle Underbirds will not only benefit from the monetary support included in the contracts but also the support from the wider Oiselle community. These athletes will be celebrated along their journeys, and have the opportunity to amplify their perspectives and lived experiences via Oiselle's platforms and resources.
Interested athletes can apply to become an Underbird HERE.
###
Media Inquiries: OutsidePR, oiselle@outsidepr.com
About Oiselle:
Founded in 2007, Oiselle is a by women, for women athletic apparel company that has always loved to go fast, take chances. We make running apparel for female athletes of all ages, paces, and places and bring together a community of women who love to move, run, and fly. Learn more at oiselle.com and follow Oiselle on Instagram, @oiselle.