Nonaste® Introduces High-Performance Laundry Detergent and Sanitizing Sports Sprays that Eliminate Stink, Funk, Grime and Germs for Active Lifestyle Enthusiasts
December 14, 2021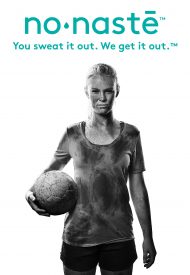 San Diego-based entrepreneur and endurance athlete launches best-in-industry detergents and anti-bacterial sprays that eliminate bacteria and odor
SAN DIEGO, CA – December 14, 2021 /ENDURANCE SPORTSWIRE/ – It all comes out in the wash. But does it really? Nonaste, pronounced "No Nasty!" has launched a collection of high-performance laundry detergent and disinfecting sports sprays to help athletes and people with active lifestyles get the nasty smells and bacteria out of their clothing, shoes, and equipment.
The epiphany of Nonaste's revolutionary products came during a yoga class when "Stinky Kevin" nearly cleared the studio once the sweat started flowing. At that moment, Andy Voggenthaler realized active people needed a better solution to "Get the Funk Out" of their apparel and gear. As a lifelong endurance athlete with an extensive background in product development with blue-chip companies (GM, Dupont-Teflon, Hang Ten, and Nabisco), Andy immediately started researching how to remove odors and restore fabric integrity effectively. Traditional laundry detergents cover up odors with fragrance and don't solve the problem of eliminating oils and bacteria caused by sweat. Nonaste fixed that.  "In our research, we found people love the idea of our laundry detergent, but wanted a complete line of products including Odor Eliminating Spray for shoes and gear, a better hand sanitizer, and a bag to hold their sweaty gear from the gym," said Voggenthaler.
The Nonaste performance product collection includes:
An Odor-Removing Laundry Detergent in lightly scented Zen Fresh and unscented Pure Clean
An Odor-Eliminating Spray to remove the stink from footwear, yoga mats, gym bags, fitness accessories, and camping gear
A sanitizing spray to disinfect surfaces at home and the gym. There is no need for wipes which are bad for the planet – just spray and go.
A hand sanitizer with industry-leading 80% Isopropyl Alcohol that offers an extra layer of protection for adults and their kids
A Sweaty Gear Bag to transport dirty and damp gear.
Nonaste's competitively priced products range from $10.99 to $39.99 (Sweaty gear bag). Nonaste also offers product bundles at a 15% discount such as:"The Stink Master," a favorite for the active family, "The People's Choice," for a clean, odorless, germ-free life, "Dirty Laundry" for nasty apparel, and "Nasty Hands," for grubby hands.
"When people sweat, unfortunately, many of them smell, and bacteria from sweat gets trapped in workout clothes and gear to create a stink. We spent the past two years perfecting our formulas to attack and remove bacteria (and its nastiness). We take care of all the dirty work so that people can enjoy their active lives, clean and odor-free," stated Andy. "I am thrilled to introduce Nonaste to runners, cyclists, soccer players, yogis, parents of kids, and anybody who sweats. We all owe a big thanks to "Stinky Kevin."
Nonaste is proud to give back 10% of net profits to the Challenged Athletes Foundation (CAF). This organization creates opportunities for individuals with physical challenges by giving them critical adaptive sports equipment, coaching, programs, and encouragement to stay active. Since 1994, The Challenged Athletes Foundation has impacted the lives of over 20,000,000 people by allowing them to live fuller, healthier, active lifestyles.
For more information about Nonaste or to purchase Nonaste products, visit www.Nonaste.com and find them on Instagram and Facebook @nonastelife.  All new customers receive a 20% off discount.
ABOUT NONASTE
People with an active lifestyle sweat and STINK – It's a fact of life. The good news? When "You sweat it out. We get it out." That's our tagline, and it's what Nonaste is all about. Nonaste's high-performance scientifically formulated laundry detergent lifts and removes nasty odors and residue caused by sweat. In addition, it restores fabric integrity leaving a light, fresh scent. Eco-friendly, affordable, and ideal for apparel, shoes, bags, equipment, and yoga mats, the Nonaste line of products will help take the nasty-gross-sweaty-ness out of your life.
Contact:
SMACK! Media
elisette@smackmedia.com
858/735.2711
###