Nix Biosensors Partners With SweatWorks to Revolutionize Hydration Monitoring
June 14, 2022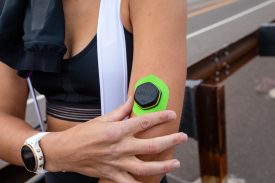 The agency will help Nix build the world's first real-time hydration monitoring technology for consumers
BOSTON, MASS. — JUNE 14, 2022/ENDURANCE SPORTSWIRE/ – Nix, the biosensor company delivering health and wellness data to consumers, today announces a partnership with SweatWorks, the leading digital technology agency for the fitness and wellness industry. As part of the partnership, SweatWorks will be responsible for the designing and building the hardware and UX of Nix's first consumer product, a small patch that analyzes a user's sweat in real-time, telling them when, what, and how much to drink, determining fluid losses, and electrolyte losses.
SweatWorks has produced award-winning digital experiences for startups to Fortune 500 companies, such as JP Morgan, Nike, Virgin Sport, Bose, SoulCycle, Equinox, Myx fitness, Cityrow, CLMBR and AARMY. Nix is launching this summer in North America and has booked more than $500K in pre-orders to date.
"We are introducing totally new real-time data into the existing routine of endurance athletes, some of the most ritualistic athletes out there, so we needed a partner who understood how seamless and actionable the experience had to be. SweatWorks was the obvious choice," says Meridith Cass, CEO and Founder of Nix. "They have a proven track record of creating amazing experiences for great brands, and I'm so excited to launch what we're creating together."
"It's a great privilege to be working with Nix," says Mohammed Iqbal, Founder and CEO of SweatWorks. "Nothing gets us more excited than projects like this — things that have never been done before in the world of health and fitness. We've poured a lot of passion into this project already, and can't wait to see how the partnership continues to grow."
The partnership follows several recent additions to Nix's c-suite and advisory board, including
Inga Stenta, former Head of US Marketing at Reebok, Tom Fowler, former president of Polar, Ian Fitzpatrick, Global Head of Brand Strategy at New Balance, Dr. Bob Murray, the founder of the Gatorade Sport Science Institute), and world champion athletes (Tatyana McFadden, 5x Olympian and 17x Medalist, 24 World Marathon wins, ESPY winner). See Nix's full team here.
About Nix
Nix is redefining how we manage health by developing biosensors that empower consumers to access, understand, and act on their personal biology at home. Nix's first consumer product is a sweat patch that provides athletes, soldiers, and laborers with hydration data in real-time, helping them optimize safety and performance. Headquartered in Boston, Mass., Nix is led by Founder and CEO Meridith Cass, a graduate of Harvard Business School, former VC, and 9-time marathoner. Advisors include Tom Fowler, Former President of Polar; Dr. Bob Murray, Founder and former Director of the Gatorade Sports Science Institute, and Tatyana McFadden, 5x Olympian and 17x Medalist, among others. Learn more at nixbiosensors.com.
About SweatWorks
Founded in 2012, SweatWorks is the leading digital agency in fitness and wellness.  Their experience merging user-focused design with innovative technology has created some of the most engaging experiences for the brands they work with, from startups to Fortune 500 companies. Clients include Nike, Virgin Sport, Bose, JP Morgan, SoulCycle, Equinox, MYXfitness, CITYROW, CLMBR and AARMY. sweatworks.com
​​Media Contact
Michael Finn
+1 952.426.8747