Nathan Sports Opens Flagship Retail Store in Southern California
April 27, 2022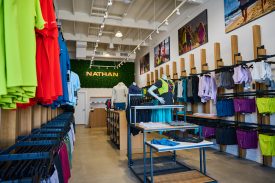 Fountain Valley, CA /ENDURANCE SPORTSWIRE/ – Nathan Sports, the leader in running hydration, accessories and apparel, is excited to announce the grand opening of their first-ever retail store in Costa Mesa, California. The store will serve as a hub for runners and adventurers in the area, offering community events along with Nathan's new apparel collection and signature hydration gear.
Nathan was inspired to open its first physical store to showcase the brand's expansion into performance apparel and allow consumers to experience the running essentials in person. The Costa Mesa store will carry Nathan's newly launched apparel and sunglasses collection as well as all of Nathan's classic running hydration options–vests, packs, handhelds and belts.
The store will open in Costa Mesa, just south of Los Angeles and close to the brand's corporate headquarters in Fountain Valley, and plans to be a resource for runners and outdoor adventurers of all types. "With the constant sunshine and the varied landscape, we have outdoor enthusiasts from all over that are looking for superior performance apparel and run essentials," said Marssia Buyck, Marketing Manager at Nathan.
Beyond providing the community with top-quality performance gear, Nathan aims to create a space for runners to connect. "We want the Nathan store to be a local hub for our community," Buyck said. "Everything we do will be with the runner or outdoor adventurer in mind. Therefore, we will be providing a variety of community events such as group runs, fitness classes, fit sessions, athlete talks and more."
Nathan's retail store is located at 369 E 17th St, Costa Mesa, California 92627, open 10am-6pm every day after launch. The grand opening weekend will run April 29th-May 1st, with a free gift with every purchase.
Press Contacts:
Maddie Jarrard, Purple Orange PR maddie@purpleorangepr.com
Marissa Buyck, United Sports Brands mbuyck@unitedspb.com
About NATHAN Sports
For over 40 years, Nathan has provided best-in-class essentials designed to help runners enhance and improve their performance, mile after mile and year after year. Our hydration vests and handhelds, waist and running packs, safety gear and apparel, offer a perfect balance of form, fit and function for athletes at all levels. Whether running a mile, a marathon or more, our wide range of running gear delivers on what matters most to our community – intuitive design, comfort, quality and smart storage. As the market leader, and inspired by the journey itself, Nathan continues to strive to offer runners the best, purpose-driven solutions to have their best runs. Nathan products are available online as well as specialty running shops, outdoor retailers, and sporting goods stores in 45 countries and counting. NATHAN is part of the United Sports Brands portfolio of sports performance and protective product brands including Shock Doctor, McDavid, Cutters and GLUKOS which are owned by Bregal Partners, a private equity investment firm. For more information, visit NATHAN at www.NathanSports.com or United Sports Brands at www.unitedspb.com