Meb Keflezighi Selects RunDot as His Run Coaching Platform
August 15, 2023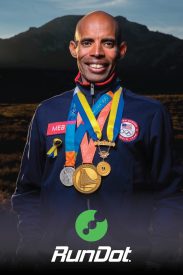 The AI powered run training platform, used by athletes and coaches worldwide, based on almost 20 years of data produces better results in less time with fewer injuries.
DALLAS, TX – August 15, 2023 /ENDURANCE SPORTSWIRE/ – Predictive Fitness announces that Meb Keflezighi, one of the greatest American distance runners of all time, is partnering with RunDot, a run training app driven by decades of data and patents-pending artificial intelligence, to power his coaching business. The intelligence engine produces dynamic, individualized run training for better results in less time with fewer injuries while being motivational, fun, and easy to use.
"Coaching has been on my mind for years since I retired from competitive running in 2017. Everyone who knows me knows that it's a passion of mine to help people, to inspire and to motivate," says Meb. "I've had so many great coaches over the years, and now it's my turn to give back to the athletes. RunDot's technology is so far ahead of anything else I've seen, and I want the absolute best for my athletes."
Meb has a long and storied career having won four NCAA titles while at UCLA, three USA Cross Country Championships, an Olympic Silver Medal in 2004, the 2009 NYC Marathon, and the Boston Marathon in 2014 where he was the first American to win Boston in more than 30 years. Meb joins the growing ranks of elite coaches embracing Predictive Fitness' cutting-edge training platform including 6x IRONMAN World Champion Mark Allen, IRONMAN World Champion and Olympic Silver Medalist Michellie Jones, and 3x IRONMAN World Champion Mirinda Carfrae, to name a few.
RunDot leverages the same proven optimization technology as TriDot (its sister app for triathletes) and features a massive athlete community that is as supportive as the training is effective. Predictive Fitness filed its first patent for optimized training in 2011 and has long been delivering performance improvements that significantly outpace the gains made by other training methods. This has resulted in TriDot being touted in publications such as Forbes, Men's Health, Tech Times, Triathlete, LA Weekly, NY Weekly, and Men's Journal.
"Meb is an iconic American running legend and man of high integrity with a passion to inspire others," says Jeff Booher, CEO and Founder of Predictive Fitness Inc., developer of RunDot and TriDot. "We're excited to partner with Meb as he guides his community of runners to better health, fitness, and performance."
RunDot can be used with or without a coach. It provides coaches the ability to better serve their athletes and their coaching businesses by letting technology do what technology does best – analyze data and optimize training – so that coaches can focus on the human side of coaching and spend more quality time with their athletes. Meb plans to coach a limited roster of runners 1-on-1 and to offer a Team Meb option at a lower price point that includes groups events and access to Meb and the Team Meb community.
"I'm committed to helping people become elite versions of themselves and nurture the sport of running for the next generation," adds Meb.
ABOUT RUNDOT
RunDot is a software-as-a-service (SaaS) technology and performance science division of Predictive Fitness, Inc. that provides Optimized Training™ for runners. Through more than 18 years of data gathering and R&D, its patents-pending technology uses each athlete's biometrics and training data along with its own proprietary big data and artificial intelligence engine to design and optimize training for athletes, with or without a coach. RunDot handles the analytics and training program design, giving coaches more time to work with their athletes. RunDot produces substantially greater results in up to 30% less training time. To learn more, visit www.RunDot.com.
ABOUT MEB
Mebrahtom "Meb" Keflezighi is widely acclaimed as one of the greatest runners of our time and is the only man in history to win the New York City Marathon, the Boston Marathon, and an Olympic medal. He is the author of two New York Times bestselling books, founder of the MEB Foundation, and is committed to helping runners become the best versions of themselves and nurturing the sport of running for the next generation. For more information, visit marathonmeb.com
ABOUT PREDICTIVE FITNESS
Predictive Fitness leverages its comprehensive dataset and nSight™ Intelligence Engine to power applications that optimize health, fitness, and performance. It employs its proprietary normalizing technologies, artificial intelligence, machine learning, predictive analytics, and other patent-pending technologies to create solutions for endurance athletes, general fitness, health-conscious individuals as well as military, employer, insurance, healthcare, and wellness stakeholders. Predictive Fitness harnesses data to help people live healthier, longer, and happier lives. www.Predictive.fit