Tim and Rinny Launch Coaching Business Leveraging TriDot
March 21, 2023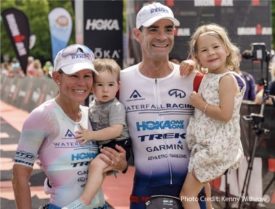 Rinny's roster has limited availability, and Tim & Rinny's World is open to all.
DALLAS, TX – March 21, 2023 /ENDURANCE SPORTSWIRE/ – Mirinda ("Rinny") Carfrae and Tim O'Donnell announced the launch of their coaching business that will leverage TriDot's Optimized Triathlon Training®, technology driven by data and artificial intelligence. Their coaching business will focus on triathlon enhancing the lives of athletes through proper life balance, adventure, and family.
"I've had so many wonderful coaches over my career in triathlon, and now I want to give back to the athletes in the sport that gave me so much," says Mirinda Carfrae, 4x IRONMAN World Champion who recently announced retirement from professional triathlon racing. "Leveraging the world's best training technology, TriDot, allows me to spend my time doing what appeals most to me about coaching, which is to guide and support athletes."
Rinny is opening her 1:1 coaching roster to a limited number of athletes. All triathletes are welcome to be part of Tim & Rinny's World, which offers TriDot's top-tier training functionality, interaction with Tim & Rinny through exclusive social media groups, periodic virtual and in-person events, and access to Tim & Rinny's partner discounts. Learn more about either option by visiting their website. Tim will continue racing this year and will not open his roster until after this season.
TriDot delivers Optimized Triathlon Training® powered by data & artificial intelligence that produces better results in less time. It can be used with or without a coach and has subscription levels to fit any budget. Embraced by tens of thousands of athletes of all levels and hundreds of coaches worldwide, including elite coaches like Mark Allen (6x IRONMAN Champion) and Michellie Jones (Olympic Silver Medalist and IRONMAN Champion), and now Tim & Rinny, TriDot is the result of over 18 years of ongoing research and development. In 2022 alone, TriDot was featured in Forbes, Tech Times, Triathlete magazine, Men's Journal, NY Weekly, and LA Weekly.
"We couldn't be more excited to welcome the power couple of Tim & Rinny into the world of triathlon coaching and to support them with TriDot's cutting-edge coaching platform and community of elite coaches," says Jeff Booher, CEO of Predictive Fitness, parent company of TriDot. "They have such high integrity and a passion to help others improve and succeed, a perfect alignment with our company values."
ABOUT TRIDOT
TriDot is a software-as-a-service (SaaS) technology and performance science division of Predictive Fitness, Inc. that provides Optimized Triathlon Training® for triathletes. The platform of choice for top coaches like Mark Allen, Michellie Jones, Timothy O'Donnell and Mirinda Carfrae, TriDot handles the analytics and training program design, giving coaches more time to work with their athletes. Its patents-pending technology uses each athlete's biometrics and training data along with its own proprietary big data and artificial intelligence engine to design and optimize training for athletes, with or without a coach. It produces substantially greater results in up to 30% less training time. www.TriDot.com
ABOUT MIRINDA CARFRAE
Originally from Australia, and now residing in Boulder, Colorado, 4x World Champion Mirinda "Rinny" Carfrae is a one of the world's most recognizable triathletes. Rinny was a threat at every race she entered. In 2023, she retires as one of the greatest triathletes of all time, with over 50 wins at major events throughout the world and seven podium performances at the IRONMAN® World Championship in the span of a decade. Rinny's passion for the sport will shift to coaching with TriDot, allowing her to connect with new athletes on an innovative platform that uses technology to optimize feedback on training and racing for fast results. Interested athletes can inquire directly from her coaching website. This next stage of her career will be supported by her long-term partners GU Energy, Garmin, Hyperice, MasterSpas, Athletic Greens and Inside Tracker. Although not ruling out future running races, retirement from professional triathlon racing will allow Rinny more cherished time with family, especially with her active kids Isabella (5) and Finn (2).