TriDot Welcomes Michellie Jones, Olympic Silver Medalist & IRONMAN World Champion, to the TriDot Coach Community
September 7, 2022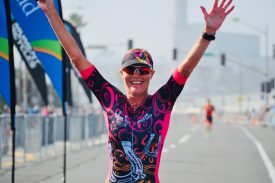 Michellie Jones brings TriDot's Optimized Triathlon Training to her athletes to further enhance their performance and athlete experience.
DALLAS, TX – September 7, 2022/ENDURANCE SPORTSWIRE/ – Michellie Jones, acclaimed triathlete and coach, has joined TriDot's growing community of coaches that also includes ESPN's "Greatest Endurance Athlete of All Time," Mark Allen, who adopted the TriDot platform earlier this year.
"I have been competing and coaching for over 30 years, and even with my vast amount of experience and knowledge, I can't match what TriDot offers," says Jones. "TriDot's unbiased and AI-driven training analyzes millions of data points and takes into account things like environment and genetics. No human can do that, but now my athletes get to benefit from this incredible technology. You're ahead of your competition before you even get on the start line."
TriDot uses Data Optimized Training and is proven to produce better results in less time. More than 15 years of data collection, research, and development drives TriDot to be the obvious and automatic choice for a fast-growing and ultra-engaged community of triathletes.
Michellie Jones is one of the world's most accomplished triathletes who's reached the pinnacle of the sport in multiple triathlon formats. Jones was the 2006 IRONMAN World Champion, Olympic Silver Medalist at the 2000 Summer Olympics in Sydney, 2x ITU World Champion, and Xterra World Champion. She's been inducted into the Hall of Fame for IRONMAN, the ITU, Triathlon Australia, and Sport Australia.
"Michellie was nothing short of legendary as a triathlete, and she's now achieving the same as a coach. We couldn't be more excited to partner with Michellie to serve her athletes," says Jeff Booher, CEO of Predictive Fitness Inc, the parent company of TriDot. Booher continues, "TriDot is able to analyze and optimize training beyond what's humanly possible for a coach. This frees coaches' time to do more of what they love the most, and their athletes value the most—actually work with their athletes."
"Technology has created significantly better athletes. Through my career, I've gone from writing plans on paper, to spreadsheets, to downloading into online training platforms, and have now progressed to TriDot," reports Jones. "TriDot makes me a much more efficient and effective coach."
Athletes looking to be coached by Michellie Jones can fill one of a limited number of slots on her roster by clicking here.
TriDot offers subscriptions at various price points for athletes wanting to work with or without a dedicated coach. Coaches can learn more about joining the TriDot Coach Community by visiting here.
ABOUT PREDICTIVE FITNESS
Predictive Fitness leverages its comprehensive dataset and nSight™ Intelligence Engine to power applications that optimize health, fitness, and performance. It employs its proprietary normalizing technologies, artificial intelligence, machine learning, predictive analytics, and other patent-pending technologies to create solutions for endurance athletes, general fitness, health-conscious individuals as well as military, employer, insurance, healthcare, and wellness stakeholders. Predictive Fitness harnesses data to help people live healthier, longer, and happier lives. www.Predictive.fit
ABOUT TRIDOT
TriDot is a software-as-a-service (SaaS) technology and performance science division of Predictive Fitness, Inc. that provides Optimized Triathlon Training® for triathletes. TriDot handles the analytics and training program design, giving coaches more time to work with their athletes. Its patents-pending technology uses each athlete's biometrics and training data along with its own proprietary big data and artificial intelligence engine to design and optimize training for athletes, with or without a coach. It produces substantially greater results in up to 30% less training time. www.TriDot.com