Marathon Tours & Travel celebrates 45 years since first bringing runners to the New York City Marathon
November 2, 2023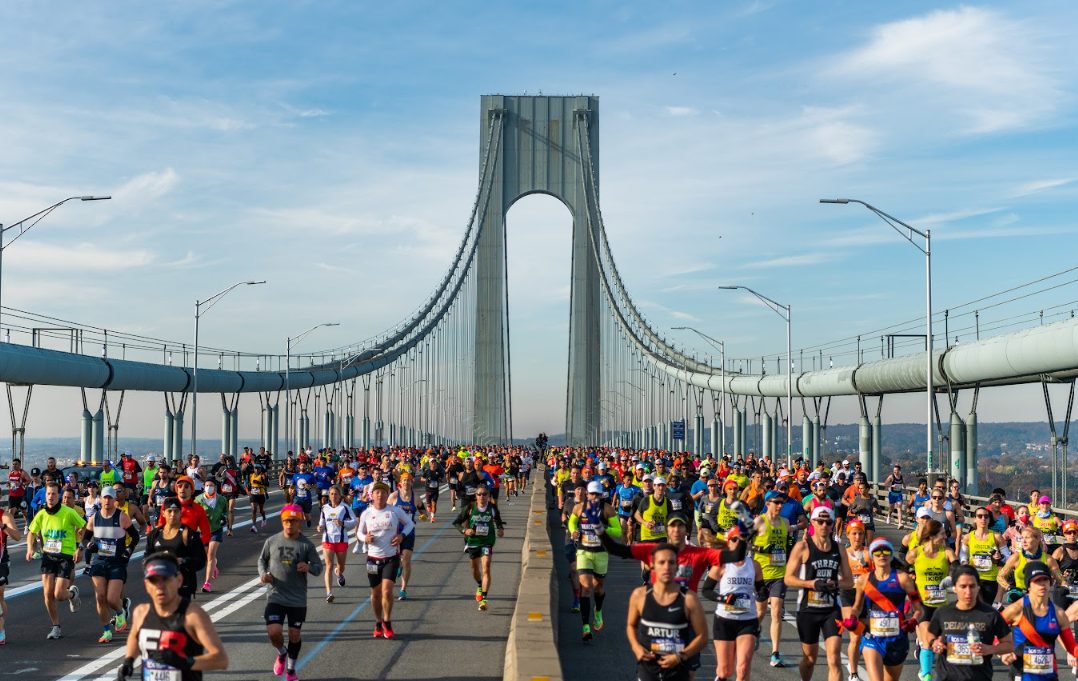 The world's premier running travel specialist Marathon Tours & Travel has been taking runners to the world's most iconic marathon since 1979.
November 2, 2023, USA/ENDURANCE SPORTSWIRE/ – Marathon Tours & Travel (MTT) is the world's largest specialist running travel brand, with offices in the USA, UK and Australia. This November it celebrates 45 years since it first took runners to what is now the world's largest Marathon – the TCS New York City Marathon.
Founded by runner and adventure travel visionary Thom Gilligan, the NYC Marathon was the first event the company took runners to back in 1979. The iconic race grew out of a grassroots club event in Central Park, where just 55 runners crossed the line at the inaugural edition in 1970. Similarly, Marathon Tours & Travel got started in the early days of the running boom and has grown to become the official travel agency for many of the world's most popular running events across all distances and genres.
MTT's mission is to help runners reach their goals, whether that's to race the Abbott World Marathon Majors – Boston, London, New York, Berlin, Chicago and Tokyo – or to compete in adventure and ultra events in much wilder destinations. The team created and manages the Antarctica Marathon® & Half-Marathon and the Madagascar Marathon & Half-Marathon, and two other unmissable events in its portfolio are the Patagonia Running Festival and the Amazing Maasai Marathon in Kenya (available soon).
MTT formed the exclusive Seven Continents Club® (SCC) back in 1995, and the Antarctica Marathon® & Half-Marathon were founded specifically so that its customers could experience the thrill of completing a marathon on every continent – unthinkable up until that point.
SCC currently has over 10,151 members and is still growing. So far 33 men and 62 women have completed a half-marathon on all seven continents while 633 men and 348 women have completed the marathon distance.
To date, more than 297,727.92 miles have been covered by SCC finishers, which means its runners have run the length of the equator more than seven times. The club offers special VIP services to support its incredible globetrotting distance runners.
Jeff Adams, President of Marathon Tours & Travel said: "We of all people know it's a marathon not a sprint, and I'm super proud of the exceptionally talented team that since 1979 have dedicated themselves to offering runners and their travel companions extraordinary destination experiences while exploring the seven continents one stride at a time. We got our pacing exactly right and the business has deservedly enjoyed huge growth and success in this time."
Marathon Tours & Travel is an official tour operator for the 2023 TCS New York City Marathon and only tour operators that are part of the official TCS New York City Marathon International Tour Program have access to guaranteed entries. Get yours (without having to enter a lottery) when you buy the accommodation package with MTT.
For more information on Marathon Tours & Travel, and to view its full 2023 event portfolio, US customers can visit https://www.marathontours.com and those in the UK, https://www.marathontours.co.uk.
The team can also be found on Facebook, Twitter, Instagram and LinkedIn.
———————————————————-ENDS——————————————————————-
CONTACT
Kate Allan
07754 072648
EDITOR'S NOTES
About Marathon Tours & Travel
Marathon Tours & Travel (MTT) is a longstanding recognised leader and innovator in the destination travel industry for runners and their supporters. With offices in Boston, Manchester and Adelaide, it is a global running travel company that offers comprehensive travel packages to events around the world to participants from around the world.
Book with Marathon Tours & Travel for great value accommodation, transfers, expert support, celebrations, meals, sightseeing, guaranteed race entry and more.
MTT's global team (USA, UK and Australia) of Trip Designers, Trip Leaders and Trip Specialists makes each trip unique and special. It has sought out the best people in the industry to make clients' experience the best it can be. The experience amongst the current team far outweighs others in the endurance sports travel industry.
Marathon Tours & Travel is part of Destination Sport Experiences, which also includes the cycling travel company Sportive Breaks.