Lindars and Wolf Take European Titles at Challenge Almere-Amsterdam
September 11, 2022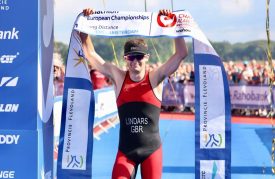 /ENDURANCE SPORTSWIRE/ – A so-called sufferfest; that's what Challenge Almere-Amsterdam turned into. From flat tires, to mechanical issues and athletes blowing themselves up when pushing against the wind during the bike. Kieran Lindars and Katharina Wolff were not having any of it, though. Both athletes (Lindars from Great-Britain and Wolff from Germany) blasted to strong wins, not only at Challenge Almere-Amsterdam, but also the 2022 Europe Triathlon Long Distance Championships. Lindars claimed victory in an fast 7:55:44 and Wolff in a strong 9:10:10.
In the men's race, it came as no surprise it was Germany's Lukasz Wojt who was first out of the water. The former swimmer was well ahead of the rest of the field, leading the swim with two minutes. Wojt needed 44:34 minutes to reach his bike. Behind him, a group with Niek Heldoorn (NED), Evert Scheltinga (NED), Pamphiel Pareyn (BEL) and Kieran Lindars exited the water. Dutch Milan Brons followed with a three-minute deficit.
While it was raining cats and dogs during the first 30 minutes on the bike, quite some athletes experienced issues. Scheltinga, who was in the chase group behind Wojt, had a flat tire that he could fix, but was forced to let go of the group. Not long after that, Wojt ended up on the side of the road with some issues too, which saw him pull out of the race. That meant it was now Heldoorn, Pareyn and Lindars in the lead.
Meanwhile, from behind, Starykowicz and Brons were approaching rapidly. Brons was first to reach up in front, after which Starykowicz joined him. The two started to battle and overtake each other until just before T2, when Starkyowicz decided to take off on his own. Brons dropped back to about 1:30 minute, and that meant it was Starykowicz who got to conquer the run in first place. The chase group was nearly eight minutes behind the first man once they racked their bikes back in T2. Austria's Thomas Steger and Evert Scheltinga were having a hard day out and started the run with the third chase pack more than 11 minutes behind Starykowicz.
On the run, the battle was on between Starykowicz and Brons. Brons started his hunt strong, but in the second lap it was actually Starykowicz – who usually struggled with the run – who ran slightly faster. However, in the first few kilometres, Brons had already shrunk the gap between the two to one minute. Behind them, it was Lindars doing the chasing, followed by Heldoorn at about one minute.
With about a third of the marathon done, the real suffering started. Brons had to walk parts and so lost touch with Starykowicz and Lindars, who were now in a respective first and second place. In fourth place, Norway's Kristian Grue was able to keep his pace up, while also Heldoorn – fifth place – had to slow down compared to the rest of the guys in front of him. Brons wasn't able to get back to speed and had to let Grue and Heldoorn run past him.
In front of the race, Lindars was unstoppable. After running to second place, he continued to hunt for gold. About halfway through the race, he got it in his hands and he wasn't planning on letting it go anymore. After running the first half-marathon in an impressive time of 1:16:08, Lindars dropped the pace slightly, while still leading the event with a big margin to the second-place athlete: Grue, who had overtaken Starykowicz.
With only a few kilometers to go, Heldoorn managed to pass Starykowicz and Grue. And so it was Lindars bringing home the victory (7:55:44), Heldoorn taking second (8:00:38) and Starykowicz – who passed Grue again – rounding out the podium (8:01:44). Grue got fourth in 8:02:25 and because of the fact that Staykowicz is from the USA, he claimed a third spot at the European Championships.
Women's race: Lina-Kristin Schink goes for it, but strong Katharina Wolff takes the win
In the women's race, Katharina Wolff had to work hard for it and had to accept Germany's Lina-Kristin Schink in front of her for most of the race, but in the final part of the marathon she managed to run to first place. In a time of 9:10:10 hours, Wolff won the European Championship at Challenge Almere-Amsterdam. She shared the podium with Schink and Sweden's Jenny Nae, who took second and third respectively.
Wolff and Denmark's Karina Gosvig were the first two athletes out of the water. The two were more than five minutes ahead of the third and fourth women once they started the bike, that were Schink and Dutch Janien Lubben. Gosvig was on fire in the first part of the bike course, because it didn't take long before she started to drop Wolff. She wasn't able to keep that up, though, because after a few kilometres, Wolff found her rhythm and took over.
After about three hours of racing, Schink had found the first woman – still Wolff – and taken over. In the second part of the bike leg, the wind started to pick up, something Schink is quite familiar with as she raced Challenge Almere-Amsterdam a few times before. During these tough kilometres, Schink extended her lead to Wolff to more than three minutes. Behind them, Gosvig dropped back, while Lubben and Norway's Julia Aspesletten moved up to a respective third and fourth place.
In the second half of the bike course, Schink had managed to extend her lead to 3:30 minutes, providing a good buffer to Wolff when starting the run. Within seven km, the gap between these two ladies had shrunk to just one minute, which saw a tight battle take shape for the gold. Schink wasn't able to maintain her first place, and eventually saw Wolff run past her. Therefore it was Wolff (9:10:10) crossing the line as the new European Champion Long Distance, Schink (9:15:57) taking second and Nae (9:21:04) earned a bronze medal thanks to a strong run.
Challenge Almere-Amsterdam 2023 will once again host the European Triathlon Long Distance Championships, to be held on September 9, 2023. Registration opens this Tuesday with a super-special 24-hour Early Bird discount.