Cyclologic takes equity stake in bike fit company Velogic; Paraic McGlynn to join as CEO
March 3, 2023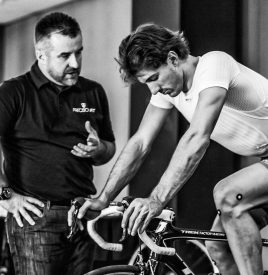 /ENDURANCE SPORTSWIRE/ – Velogic Limited, a producer of bike fit systems based in New Zealand, today announced that Cyclologic, a global leader in cycling performance analysis, equipment, and education,will take an equity stake in Velogic, with Paraic McGlynn joining as Chief Executive Officer. McGlynn replaces Darren Bruning as Velogic's CEO.  Bruning will continue as Velogic's Chief Software Engineer.
The move combines Motion MetriQ cycling-specific video analysis programs with Velogic's portfolio of products, increasing the capability and scale of the merged organizations, which will  immediately build on their positions as industry-leading providers of cycling performance analysis products and services, by offering hardware, software, education and training, product selection and sales and performance analysis solutions, benefitting trade clients and consumers.
Cycling performance analysts and bike fitters will be able to utilize biomechanical, biometric and aerodynamic data to guide cyclists to the ideal on-bike position, and then match that with the ideal products to achieve the desired end result for the rider.
Integrated system capabilities include 3D motion capture, power output, aerodynamics, contact pressure point analysis, and more, alongside frameset and component dimension databases.
Complete analysis systems (hardware and software) and related education and training are available to trade partners. Complete performance analysis product selection and professional assembly are available to consumers, both directly through Cyclologic's AZ facility, and through authorized Velogic performance analysts, globally, enabling cyclists to optimize their on-bike  speed, power, efficiency and comfort.
"At Velogic we have always been focused on the intersection of scientific rigor and the business realities of running a bike fit studio. The Velogic board believes that Paraic is the ideal person to lead the next stage of Velogic's growth and success." said Darren Bruning, Chairman of Velogic's Board.  "His deep cycling performance analysis and bike fit knowledge combined with his industry connections make him uniquely placed to expand Velogic's reach as we continue to develop and refine our solutions."
Working with Elite athletes around the globe since the early 1990's. McGlynn relocated to the US in 2000 working in retail fitting and at the Serotta Fit School. In 2011 he helped launch FASTER the industry's first Cycling-specific wind tunnel and went on to found Cyclologic in 2012. Since then, he has focused on developing a more scientific approach to bike fitting, cycling product consulting, fitting education, and cycling motion analysis methodologies.
 "I'm delighted to join the Velogic team as CEO," said McGlynn. "Velogic's strategy and ethos align perfectly with the work we have been doing at Cyclologic and with our related technologies. As we began planning our next set of technology investments, it became clear that a relationship with Velogic would allow us both to achieve our goals more quickly. Together we will deliver an integrated, innovative cycling analysis ecosystem for our customers and existing Velogic clients. I am especially excited to now have the resources and technical team to execute my longtime vision of a single cycling analysis platform to capture biomechanics data, physical assessments, search bike solutions, perform aero analysis, sizing and more. Darren and I have a clear development pathway and we have planned new functionality and integrations to ensure we deliver the broadest range of analysis options in the highest quality cycling analysis platform." – Mr. McGlynn
Contact: kelli@thorpemarketing.com
www.velogicfit.com | www.instagram.com/velogicfit
www.cyclologic.com | www.instagram.com/cyclologic
About Cyclologic:
Cyclologic is a globally recognized provider of cycling performance analysis, bike fit solutions and related equipment and education for consumers and industry. Based in Scottsdale, AZ, Cyclologic relentlessly researches and develops solutions to increase the power, efficiency and comfort of cyclists, from enthusiasts to the world's most accomplished athletes, across cycling disciplines.
About Velogic:
Velogic Fit, based in New Zealand, is known for their science-based approach to cycling performance analysis and bike fit, and for having developed a top-level 3D-Motion capture system including proprietary hardware and software, and that is capable of integrating power, heart rate, contact point pressure, and aerodynamic data to provide a comprehensive fit capability for fitters, and a comprehensive fit for consumers.